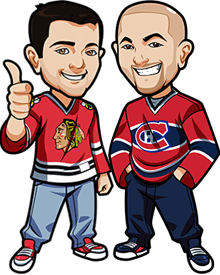 Written by Graeme & Scott on Saturday, May 22nd, 2021
Follow @BetNHL
Oh Edmonton.
The Oilers didn't just lose yesterday but were shut out by the Winnipeg Jets. The Oilers are now 2-0 down in the series.
It's deserved too. It's clear the Jets have really been studying the tape and know how to handle the Oilers. Hellebuyck is playing incredibly well too of course – but unless the Oilers find a way to mix it up, they are in serious trouble. That was one of two consensus picks losing although at least the other one was more for value than anything else.
That also makes the North Division a combined 0/15 on the power play so far. Well that depends on whether your glass is half empty or half full – as one could say they are 15/15 on the penalty kill.
After three close games, a surprise was the Bruins absolutely ripped the Capitals apart in a 4-1 thrashing. Avs flexed their muscles, and the Preds put in absolute maximum effort and were able to get that win which was nice to see.
It's Saruday, we've got four games on the go all beginning at 12:30pm EST.
Lightning vs Panthers Game 4 Betting Tips:
Scott: The Panthers scored twice in the 3rd to tie the game and Ryan Lomberg scored the OT winner.  That was a huge win and kept them from falling behind 3-0 in the series.
It must have stung to have Lomberg score the winner.  This guy is turning into a huge pain in the ass for the Lightning and that stuff is always fun to watch.
The Panthers could tie the series with a win but the Lightning also know they can't allow them back in the series.
Too close to call and I'll avoid a tip for this game.
No Bet
Graeme: If we look at the advanced metrics from the regular season, Panthers were generally the better side. Of course that didn't matter results wise. Looking at the advanced metrics for the three playoff games so far – it was practically dead even in Game 1. Game 2 and 3 both saw much better performances from the Panthers. Of course Game 2 can be a tad misleading, as they were chasing the game a lot and that can be an issue.
I'm too conflicted on this one. I feel Tampa are the better side and will take more control today. However I can't discount the metrics – if you went purely by the numbers I'd say this is a 50/50 game and the Panthers are thus a good bet.
This is one where I'll probably be looking to live bet instead. If Panthers can survive a potential early onslaught, I'll look to bet them after the 10 minute mark.
I personally do almost all my live betting at Bet365 (Americans: We recommend http://www.bovada.lv. When it comes to live betting I never really bounce around for best odds – Bet365 (Americans: We recommend http://www.bovada.lv just have the best interface imo and that's good enough for me.
Islanders vs Penguins Game 4 Betting Tips:
Scott: The Pens lost the first game but have won the next two to take a 2-1 series lead.   Malkin returned and had two assists.  Jeff Carter is on fire too scoring twice and has 3 so far in these playoffs.
One thing about the Islanders is you can never count them out.  All three games so far have been decided by a single goal.
With the Isles still at home before the series moves locations again I see the Isles winning this game and making it a best of 3 series
Isles win incl OT
Canada: 1.88 Odds at BetOnline..
USA: -113 Odds at BetOnline..
Everyone Else: 1.88 Odds at BetOnline..
(Odds correct as of 2021/05/22 7:45:09 AM EST but are subject to change.)
Graeme: An incredibly tight series and I love it. Basically one where you can take the underdog and know it's likely the right play. Alas neither side are above 2.00 odds here.
I took the over 5 in the last one and it worked out well. I think we can treat this as a big must-win game for the Isles. They were never really in this spot too much last playoffs – only in that Tampa series I guess and they got blasted 4-1 in game 4. No bet for me here unfortunately. My gut says Isles is the play though. I respect Trotz, and Pens are the Pens.
No Bet
Leafs vs Canadiens Game 2 Betting Tips:
Scott: The story of the game was Tavares leaving after accidentally taking a knee to the head from Corey Perry. It looked rough and when Tavares tried to get up it looked even worse.  Perry had to answer for his actions when he fought Nick Foligno which he did but the Leafs kept coming for Perry and they ended up losing 2-1.
It hurts when you lose your captain and Tavares was a big part of the team.  But if any team can still have success after losing such a player its the Leafs.   Things like this can bring a team together.
With the Leafs still at home I like them to win this game and even the series.
Leafs win in regulation
Graeme: The story of the game was actually the Leafs losing and getting humbled by the might Habs. Gotta love it!
I said in the playoff predictions that the Habs were better than the Leafs in most games by the metrics but results wise that just didn't matter. The Habs needed a goalie to step up to help and that's what Price did with some good saves in Game 1.
We were here just yesterday with the Oilers/Jets series. However at least we can look back at last years Jackets series and see that the Leafs were able to bounce back strong in Game 2.
It's a crucial game, Leafs should be absolutely fired up with Tavares out etc. Much like I shook my head so much my neck hurt yesterday over that Oilers pick – I gotta inflict injury on it again as I say Leafs in Regulation.
Canada: 1.90 Odds at Bet365 (Americans: We recommend http://www.bovada.lv.
USA: -110 Odds at BetOnline..
Everyone Else: 1.90 Odds at Bet365 (Americans: We recommend http://www.bovada.lv.
(Odds correct as of 2021/05/22 7:45:09 AM EST but are subject to change.)
Wild vs Knights Game 4 Betting Tips:
Scott: The Knights were down 2-0 only to come back and score 5 unanswered goals to win the game 5-2.
The Knights were shutout in game 1 but haven't had a problem scoring since.   The momentum they gained in the last game will carry over to game 4.
I picked the Knights to win in 5 and they can do that by winning this game and then game 5 in Vegas.
Knights win incl OT
Graeme: It was a big comeback for the Knights. More interestingly looking at the three games – they are vastly different from the regular season. Whereas the Wild were able to cause issues for the Knights in regards to xG and high danger chacnes – that's just not happening in the playoffs.
The Knights have made the necessary adjustments. It's entirely possible we see a gentleman's sweep but from everything I am seeing the Wild just don't have the firepower to match the Knights. Game 2 was their best effort.
Knights incl OT if Fleury in net
Canada: 1.85 Odds at Sports Interaction (SIA) + free $20 bet – perfect chance to use it.
USA: -118 Odds at BetOnline..
Everyone Else: 1.84 Odds at BetOnline..
(Odds correct as of 2021/05/22 7:45:09 AM EST but are subject to change.)
Follow @BetNHL
BetNHL.ca » Tonights Tips »