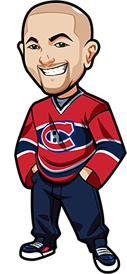 Written by Graeme on Sunday, May 22nd, 2022
Follow @BetNHL
Well quite the bit of drama in the Blues game last night.
I had the Blues to win and after watching the way the game played out, I was happy with that bet even though it lost. They lost Binnington but still played exceptionally well and were very unlucky.
The Binnington injury was unfortunate but then the drama after with him apparently throwing the water bottle at Kadri during the post game interview. On top of that, the Avs look like they have lost Girard for the season.
Tough game and that really sucks for him.
We have three games on the board today. Game 3s are my favourite as it gives me a lot of fresh data to analyze due to the venue change.
No best odds today as I finished these late and have to head out.
Panthers vs Lightning Bets:
Scott: The Lightning are up 2-0 and the series now moves to Tampa Bay for games 3 & 4. Game 2 was tied at 1-1 until Colton scored for the Lightning with 3 seconds left for the win. This was the Lightnings 4th straight win.
The Panthers won the Presidents Trophy but now have to win 4 of the next 5 games to avoid being eliminated.
They had an extra day off so the Panthers should really be studying tape of games 1 & 2 to try and figure how they can fix the hole they find themselves in. I can't see the Panthers getting swept here. They are too strong of a team to crumble.
Panthers win incl OT
Graeme: Panthers were unfortunate in that last game I thought. It's an early game. They went 6-1 in matinee games. Tampa went 4-4 and I'm sure we all remember that lol loss to the Sens 4-0 back in December. Their performance in early games is a bit of a concern.
Also remember last year. Tampa went up 2-0 in Florida and then the Panthers pulled it off in Game 3 in that 6-5 win in OT where they reached deep for the crucial win.
Basically I feel good about my Tampa series bet for sure. I can't see Florida pulling it all the way back. I'm not looking to cash that bet out. But I don't feel great about Tampa today. You have a do or die game and while there's not a ton of data and a game versus Ottawa is different from a playoff game versus Florida – there's still enough from those early games to put me off them.
I can't take it but one bet that sticks out to me is over 6.5. If you look at the metrics when Tampa were at home compared to on the road so far in the playoffs – they play a lot more offensively at home so that should allow Florida to get more chances and get the goals coming in.
Buuuut I am wondering how Point being out will affect that. He was a crucial part of that team and I could see the absence of him being a factor in how they play.
No bet advisement for me although for entertainment I'll be backing the over 6.5.
Canes vs Rangers Bets:
Scott:Raanta has been amazing for the Canes allowing only 1 goal through the first 2 games.
This series really hasn't been a high scoring one with only 5 goals scored over the first 2 games. With the series moving to New York for games 3 & 4 and the Rangers in desperate need of a win can they find a way to get some pucks past Raanta? Only time will tell. I picked the Rangers to win the series and for that to happen they have to win this game.
Rangers win incl OT
Graeme: Rangers were slightly better at home compared to on the road last season. Hurricanes had an excellent home record but also darn good away. Basically the records don't tell us too much.
Advanced metrics wise – eh, not too much difference there to be honest either. Both teams very similar both home and away. Not very helpful.
If we look at the playoffs so far – there's really not too much there either. Rangers generally slightly better at home while Canes are mostly the same across the board.
So the metrics aren't too helpful – have to go by gut. And man I just don't see enough value in backing the Rangers. I feel like it's been very close with a slight lean towards the Canes – especially in Game 2. You have what is essentially a do or die game for the Rangers here, a team who I don't know if they even belong here anyway.
I feel like Rangers will squeak out the victory but I can't back it at those odds. Their inability to get past Raanta, and their weak offensive output in the last game is quite concerning. No bet although gut says Rangers pull it off.
Flames vs Oilers Bets:
Scott: Game 2 was another exciting game. The Oilers rebounded with a win to even the series.
With the series moving to Edmonton I wonder if the goals will keep up. With the Oilers fans amped up after that win they are gonna be loud.
The Flames had a 2-1 lead and a 3-1 lead but the Oilers didn't give up. This has been a high scoring series and I don't see it stopping tonight. The fans are going to get the Oilers going and the Flames are going to have to keep up.
Over 6.5 incl OT
Graeme: I mean this is one where I don't even feel it's worth looking at the metrics. I don't see either team trying to change things up. Both teams converting like crazy. Over 6.5 incl OT
Follow @BetNHL
BetNHL.ca » Tonights Tips »