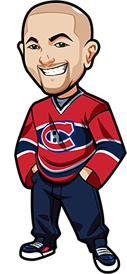 Written by Graeme on Monday, May 22nd, 2023
Follow @BetNHL
The Golden Knights will take a 2-0 series lead to Dallas, as they were able to defeat the Dallas Stars in overtime.
The game started hot and it was looking good for the over. Alas, neither team could could score for 25 minutes. The Dallas Stars I thought came really close to adding to their lead quite a few times, but were unable to do it. With a few minutes left, the Knights scored and carried the momentum into OT.
Tonight we have the Florida Panthers hosting the Carolina Hurricanes, up 2-0 in the series. Can the Canes figure out Bobrovsky? It's going to be an interesting game.
Also with the NHL season wrapping up, I'd like to remind people that myself and my buddy Vin have our own patreon with betting tips covering a variety of sports. I just called Brooks winning the PGA Championship at 20/1 odds, and Vin has been crushing it this month with MLB & NBA. No payment required till the end of the month, so you get a week to try it out for free.
Panthers vs Hurricanes Game 3 Betting Tips:
Scott: Another great game from these teams in game 2.
I said I would think that the Canes would bounce back and win game 2 but it would need to be in regulation so I'm glad I avoided this. The Panthers won 2-1 in overtime but this time it only needed a few minutes instead of 4 periods.
The Panthers are up 2-0 in the series thanks to Tkachuk who scored the 2nd straight OT winner which was his 3rd of these playoffs.
The Canes went with Raanta for game 2 giving Andersen the rest after that crazy game 1.
Bobrovsky has been incredible and it seems he plays better in close games and when his team is outshot.
With the series moving to Florida for the next two games its hard not to see the Panthers winning here. But the Canes had the 2nd best record in the regular season and can't afford going down 3-0. The Panthers have gone 2-3 on the road this season so the Canes need to win. And they had better finish it in regulation as the Panthers have won all overtime games this postseason.
Canes win incl OT
Ontario: 1.95 Odds at Bet365 (Americans: We recommend http://www.bovada.lv
Canada: 2.00 Odds at BetOnline.
USA: +100 Odds at BetOnline.
Everyone Else: 2.00 Odds at BetOnline.
(Odds correct as of 2023/05/22 9:51:06 AM EST but are subject to change.)
Graeme: I'm not even sure where to start with this one, in that I have no idea what angle to look at it from.
Like, it's not really about the home/road split. The Canes have dominated both games. xG of 4.49 in the second game, 1 goal. xG of 6.5 in the first game, 2 goals.
It really is just coming down to Bobrovsky at the moment. And it's not just him – that's something that affects a teams confidence.
The odds are close to coinflip, and that's really what it is all about. Whether the Canes can get past him or not.
I'm actually quite annoyed, as I was going to attack this from the angle of looking at what happens when the Canes suffered from this during the regular season (high xGF, low G) and how they responded the next game, and then do a team shots over bet or a goalie saves bet. But these are not bets that are widely available at most sportsbooks.
For the record, the Canes have a 32.05 SF/60 in playoffs, regular season was 34.29 SF/60. There's really not too much data to go on as there were very few scenarios where that happened. But the Canes shot count was generally lower than their average after that.
Honestly, I have no idea. I looked into player data, nothing jumping out either. I am passing on this one. By the metrics, the Canes are the team to bet but we've seen this situation so many times and know how it can mess with a team.
No Bet
Follow @BetNHL
BetNHL.ca » Tonights Tips »