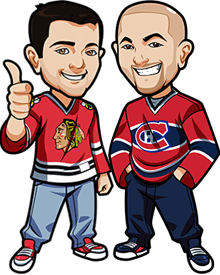 Written by Graeme & Scott on Tuesday, May 23rd, 2017
Follow @BetNHL
The first team to be in the Stanley Cup Finals 2017 was confirmed last night as the Predators beat the Ducks 6-3 thanks to the empty netters.
With Bernier in net the Ducks came out on fire knowing they needed the goals. They racked up a whopping 41 shots on goal to the Predators 18 with it being 25-8 in the first two periods.
That wasn't enough though as the Predators got the win.
Who will they beat? They might find out tonight as the Pittsburgh Penguins visit Ottawa. The Penguins are up 3-2 and could wrap it up here.
The Final is to begin next Monday, the 29th of May. So the Penguins will hope to take it here to give them that extra two days rest.
Penguins vs Senators Game 6 Betting Tips:
Scott: Not sure how the Sens are going to respond to having their asses kicked like they did in game 5.  They seemed to try and play the same way the Penguins do and that resulted in the disaster that happened.  They need to get back to playing the way they have which got them to this point.
But with the way the Pens are playing it's hard to bet against them.  They had 7 different goal scorers in the last game.
I do see the Sens coming out with a better effort in this game.  Bobby Ryan has been a big part of the Sens success in these playoffs.  He has 14 points in 17 games including 5 in 5 games this series.
Bobby Ryan to register a point for 2.02 odds at 888 Sports
Graeme: I said I wouldn't bet against the Sens for the rest of the playoffs but man – it's so hard to do that. Murray being back in net seems to have helped the Penguins.
Honestly I don't know what to expect from this game. I've struggled to read Ottawa all season. They need a big performance but do they have it in them? I just don't know.
That thrashing the Senators gave the Penguins a week ago seems to have woken Pittsburgh up. Can the Sens play like that again?
I just don't feel confident enough. Generally in a spot like this I'd take the Senators to win. They're underdogs and teams tend to bounce back strong after a thumping – we've seen that in the playoffs before. But my inability to read the Sens this year is putting me off.
I'll probably throw some money on them as I think mathematically its gotta be the right move, but I just can't back the Senators. No Bet.
Follow @BetNHL
BetNHL.ca » Tonights Tips »