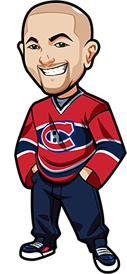 Written by Graeme on Saturday, May 23rd, 2020
Follow @BetNHL
Well it looks like we are getting closer and closer to the return of the NHL season. a 24-team format is set up and looking realistic. However it is looking like July before the season actually resumes.
I've had friends messaging me complaining about the format. Seriously? It's the return of the NHL season just shut the hell up and enjoy it for what it is. Just like the lockout season and when it returned. I'll bend over and take whatever as long as I get hockey back.
I can't believe it's almost a reality. I'm already so excited about those first games back and diving into the advanced metrics etc to see wht has changed.
There was a great interview with Patrik Laine I saw on Twitter yesterday where he kept shitting on Ehlers which was hilarious. My favourite was when he was asked if he considered passing to Ehlers in that Leafs game where he scored the game winning goal – for his hat trick – and it was a 2 on 1 rush in OT.
"Absolutely not. I'm always thinking about shooting it. Especially with Nikky on the other side. I had to shoot it if we wanted to score."
That's the sort of thing we need to be reading more of. Not stories like "Penguins won't let Crosby talk about racism!!" or whatever. Good little stories and interviews like that which make NHL players seem human.
So today we have AEW and the Bundesliga and there's already a post about all of that.
I had a quick look at Sundays games and there's really not much I like. Let's cover it quickly then get into the Tom Brady playing golf betting tips.
Bundesliga Bets for May 24th:
I've only got two small plays here. I feel like under 2.5 goals in Schalke vs Augsburg is worth a play. Neither team in form at the moment, neither team doing well offensively. Could be a dire affair.
I'm also on Both Teams to Score = No in the Mainz vs Leipzig game. Just one of those where I glance at it and look at the metrics and think yeah I could see there being a clean sheet in this game.
Didn't have anything for Cologne vs Fortuna. I wrote a bigger write-up of it all over at BetSoccer.ca.
Tom Brady Plays Golf Betting Tips:
On Sunday, Tom Brady teams up with Phil Mickelson to take on Tiger Woods and Peyton Manning.
You can bet on this at BetOnline. and they have an absolute TON of prop bets available. So so many. It's all listed under "Golf – Specials".
They've also got a free slots tournament too going on this weekend.
Woods/Manning are the favourites at -205 odds.
I've been betting golf for years. However this is one where the really isn't any serious money to be won. Woods and Manning should be the favourites but that sort of juice on a charity tournament isn't worth it.
I'm going with a few small bets just for the hell of it – kind of like when you have 30 bets going on in the Super Bowl – which are:
No player to make par or better on Hole #5 at 1.74 odds
Tiger closest to pin on Hole #4 at 2.15 odds
"Omaha" to be said by any player at 3.15 odds
Woods/Manning First Team To Go 1 Up at 1.68
Mickelson Longest Drive on Hole #1 1.95
That's just a couple of example bets. I've basically bet every market just for the hell of it. I quite enjoyed Woods vs Mickelson last time out and looking forward to this and hopefully some good trash talk.
You can bet this at BetOnline.
Follow @BetNHL
BetNHL.ca » Tonights Tips »