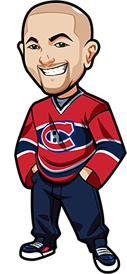 Written by Graeme on Tuesday, May 23rd, 2023
Follow @BetNHL
Well that answers the question of whether the Hurricanes can get past Bobrovsky or not.
It felt like a poorer effort from the Canes on offense. xG confirms that with just 2.14. Their offense and team is broken. Sad to see, but that will likely be the end of the road for them.
What a beast Florida are turning into. It's one of those things that just seem like destiny. I don't think there is any point in betting that series any longer personally.
Are the Knights also destined to get here? They are 2-0 up as they go to Dallas.
The bookies have the Stars as pretty solid favourites for this one.
Stars vs Knights Game 3 Betting Tips:
Scott: It was another overtime win for the Knights in game 2.
The Stars were up 2-1 after the 2nd but the Knights tied it to send it to OT where Stephenson scored early to win it and give the Knights a 2-0 series lead.
The Knights have now posted 8 comeback wins in these playoffs which is incredible. The Stars have lost all 4 games in this postseason that went to overtime.
With the Stars at home and down 2-0 in the series they need to win here. They have gone 5-2 in Dallas and will need the home crowd to help push them to a win here. The need to get the lead and hold it and not go to overtime where they have had no success. The Knights have been good on the road in the playoffs going 4-1 on the road so the Stars have a tough task in game 3. I think the Stars know what's at stake here and will have to find a win to win.
Stars win incl OT
Ontario: 1.70 Odds at 888 Sports.
Canada: 1.70 Odds at 888 Sports.
USA: -141 Odds at BetOnline.
Everyone Else: 1.70 Odds at 888 Sports.
(Odds correct as of 2023/05/23 7:19:17 AM EST but are subject to change.)
Graeme: Well it's a venue switch. Game 1 I felt the Knights deserved the win, Game 2 I thought the Stars were very unfortunate.
The metrics for the two games so far – Corsi & Fenwick about the same. Stars better xG, everything else really similar. That's in all situations. We switched to 5 vs 5, and the Knights are VERY dominant with a 3.02 xG to 2.37. So that's worth bearing in mind. HDCD/60 of 12.13 to 8.27 as well.
Think it's a good time to look at home/road metrics. I'm just going to focus on the playoffs. The 5 vs 5 metrics for this series have me leaning the Knights although that's more due to that dominant game 1.
I'll look at 5 vs 5 stats as that's the biggest factor in this series so far. In Corsi, Stars definitely improve somewhat. Same as Fenwick. More goals scored, better xGF & xGA by a decent chunk, better SCGF/60. Much better HDCF/60.
Basically in 5 vs 5, home is a big improvement for the Stars.
How about the Knights? Corsi & Fenwick both have a 5% drop in the offensive metrics, and their CA bumps up by 8. Goals scored is similar, but xG drops.
Basically, the Stars jump is slight, but the Knights drop is pretty big but consistent with most teams in the playoffs.
The metrics for me make it worth taking the Stars here. I think the 5 vs 5 balance sorts itself out here, and Dallas will be the better team and able to take this one to at least a game 5.
With the odds the way they are, I don't like taking a bet including overtime. I feel if it goes to overtime, at odds like this it's an -EV bet. Just in general, not even factoring in the way the playoffs have gone.
Leaves me with two options.
Stars Draw No Bet: This is an appealing one simply because overtime has went the way it has twice already. That gets in peoples heads, especially in the playoffs. I think if this goes to OT, the Stars are a mess and the Knights have a resurgence in confidence.
Stars in Regulation: It's a case of if I feel the Stars metrics are overwhelming enugh to back them based on the odds presented. I feel like if it was 2.10 odds, I'd pass on that. But at 2.25, I think I'll take it. That's available at Bet365. If you're American and can't get +120 or above, pass.
Stars in Regulation
Ontario: 2.25 Odds at Bet365 (Americans: We recommend http://www.bovada.lv
Canada: 2.25 Odds at Bet365 (Americans: We recommend http://www.bovada.lv
USA: +110 Odds at Bovada
Everyone Else: 2.25 Odds at Bet365 (Americans: We recommend http://www.bovada.lv
(Odds correct as of 2023/05/23 7:19:17 AM EST but are subject to change.)
Follow @BetNHL
BetNHL.ca » Tonights Tips »