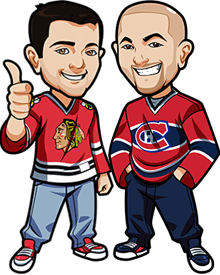 Written by Graeme & Scott on Friday, May 24th, 2013
Follow @BetNHL
Go home Blackhawks; you're drunk.
Seriously, what the hell is happening to Chicago right now? Nothing is going their way. If anything though it will make them winning the Stanley Cup(if it happens) that much better – it's one thing to go through the regular season like they did; but to come back from 3-1 down, backs against the wall, and progress in this series? That'll be an amazing accomplishment – although one that looks tougher every game. Toews especially – he really needs to turn things around, and fast.
Tonight for Friday May 24th, 2013 and the NHL Betting Tips we have one game – the Ottawa Senators vs the Pittsburgh Penguins. Pittsburgh have hummed and hawed this series but showed what they were made of in Game 4.
We're going to be doing two tips tonight. We like the Penguins to win, but the 1.42 odds make that untouchable. The Senators are 2.95 at Bet365 (Americans: We recommend http://www.bovada.lv which is actually very good odds – our honest opinion is that line should be more about 2.7 so there's value there. However we can't recommend betting against Pittsburgh at this stage.
Over 5.5 Goals
We like this game to be open, with a lot of goals. Pittsburgh? Yeah they have a pretty good offense. The Sens too. Ottawa also need to win so they have to through caution to the wind at every opportunity here. Ottawa have proven in the past that they can score a lot of goals, and we've had two high scoring games this series with the 7-3 and 4-3 Pittsburgh wins.
Really this game looks like it will go like the last game. Pittsburgh also have tasted blood and they're going to be bloodthirsty for more. Alfredsson is most likely good for a goal in this game as well, and with the Sens averaging 3.22 goals per game, and the Penguins 4.10 goals per game in the playoffs – yep, we gotta go with the over.
1.95 odds currently available at Bet365 (Americans: We recommend http://www.bovada.lv. You can also bet over 6 at 2.2 odds or over 6.5 at 2.5 odds if feeling frisky.
Goal Before 9:30
To go along with the over goals, we expect this game to start fast. Pittsburgh know they can afford to be aggressive and push up while Ottawa know they need to get a goal pretty quickly too to calm the nerves. Decent odds of 1.74 odds at Bet365 (Americans: We recommend http://www.bovada.lv make this a value bet.
Follow @BetNHL
BetNHL.ca » Tonights Tips »