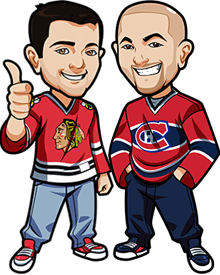 Written by Graeme & Scott on Monday, May 24th, 2021
Follow @BetNHL
The Edmonton Oilers blew a 4-1 lead last night and are now 3-0 down in the series. While that scuppers our Oilers -1.5 for the series bet, neither of us cared. We were both madly celebrating the entire thing and the Jets victory.
Not sure if it's hate on the Oilers or just loving a good comeback – but boy did we enjoy that result last night.
The Bruins and Avalanche made it through in the playoffs yesterday. The Predators were able to pull off a big win over the Hurricanes. That was one crazy game.
Will wee se more teams go through? We've got Lightning and Jets and Knights all able to go through tonight with victories. Let's see what we got:
Penguins vs Islanders Game 5 Betting Tips:
Scott: This has been an amazing series.  It's tied 2-2 and the Isles have been far more competitive then I first thought.
The Penguins won the first game in overtime, the Isles won the next two both by a single goal, and the 4th game which the Pens won was the only game of the series not decided by a single goal.
With the series back in Pittsburgh for a game the Pens can't let the Isles win this one which would give the Isles the chance to win the series on home ice.  I like the Penguins for game 5
Penguins win incl OT
Canada: 1.72 Odds at BetOnline.
USA: -137 Odds at BetOnline.
Everyone Else: 1.2 Odds at BetOnline.
(Odds correct as of 2021/05/24 9:20:38 AM EST but are subject to change.)
Graeme: Tricky one. I feel like the Pens are the better side overall but these have been very close playoffs.
Pens are fairly big favourites here even though they lost Game 1 in OT and only got a tight Game 2 victory.
This is similar to yesterdays Capitals pick where I feel like the Penguins can get the W, but the math points more to the Islanders. However I have a LOT more faith in the Islanders being able to get the job done. I'll go with Islanders +1 (push if they lose by 1).
Canada: 1.67 Odds at Sports Interaction (SIA) + free $20 bet.
USA: Don't see odds yet but Bovada usually have it.
Everyone Else: 1.66 Odds at Bet365.
(Odds correct as of 2021/05/24 9:20:38 AM EST but are subject to change.)
Canadiens vs Leafs Game 5 Betting Tips:
Scott: Well life without Tavares started good for the Leafs.   They won 5-1 and outworked the Habs throughout.  They outshot Montreal 20-6 in the 2nd period.  Matthews had a goal and a couple assists and Willy Nylander scored and also had a helper.
The Leafs definitely built some momentum from this game.
Price, despite allowing 4 goals in game 2, has been good for the Canadiens.  But they will need the rest of the team to help him out.
The Leafs are now playing for Johnny T and the game 2 win is going to give them a boost.
Leafs win in regulation
Canada: 2.05 Odds at Bet365.
USA: -105 Odds at BetOnline.
Everyone Else: 2.05 Odds at Bet365.
(Odds correct as of 2021/05/24 9:20:38 AM EST but are subject to change.)
Graeme: The Leafs bounced back in Game 2, as we expected and both tipped. What really concerned me as a Habs fan was how tame our offense looked. Just watching that, we didn't look dangerous at all. We created just two high danger chances the entire game.
I'd like to say the Habs are better than that – but man I dunno. Game 1 just seems like an anomaly.
I'd like to abstain here but instead I am going to back the Habs purely off last years playoffs. Habs beat the Pens Game 1, lost Game 2. Everyone thought oh that's all she wrote for the Habs and then they came back and won. Leafs lost Game 1 to the Jackets, dominated them Game 2 and everyone thought oh that's it the Leafs are here to take the cup. Then they lost.
It's weak reasoning and I don't really expect it. But ya know what? Last year I correctly tipped both that Habs win AND the Jackets win. So hey why the hell not. More than anything I just want to be able to send my bet slip to my Leafs mates.
Canadiens win incl OT
Canada: 2.45 Odds at Bodog.
USA: +145 Odds at Bovada.
Everyone Else: 2.42 Odds at BetOnline.
(Odds correct as of 2021/05/24 9:20:38 AM EST but are subject to change.)
Panthers vs Lightning Game 5 Betting Tips:
Scott: Well the Panthers picked up a win in game 3 in overtime but the Lightning made sure to not make that mistake again as they came back ready in game 4 and won 6-2.
The Lightning now have a chance to eliminate their rivals but the Panthers are at home so they may show up. But it may be too late.
But I can't look past the way the Lightning have been able to score each game.   The chased Bobrovsky from the net in the last game.
I had picked the Panthers to win the series but I don't think that's the case anymore.
Lightning win in regulation
Canada: 2.35 Odds at Bet365.
USA: +135 Odds at BetOnline.
Everyone Else: 2.35 Odds at Bet365.
(Odds correct as of 2021/05/24 9:20:38 AM EST but are subject to change.)
Graeme: It's do or die for the Panthers. Honestly they played fine last game – the goaltending just let them down. They've increased capacity tonight to have an insane crowd.
Goaltending at this stage being an issue is a big concern for sure. The 4-0-0 Spencer Knight might be in net.
I am cheering the hell out the Panthers tonight. With the increased attendance I really hope that brings them in. I really want to back them. But considering the goaltending situation – I'd need better odds than coinflip.
No Bet but Go Panthers
Jets vs Oilers Game 4 Betting Tips:
Scott: What a game that was.  The Oilers got points from both McDavid and Draisaitl and had a 4-1 early in the 3rd.  Well the Jets stormed back scoring 3 unanswered to force overtime and Nikolaj Ehler, who hasn't played in a month, scored his 2nd of the game and the Jets won 5-4.
I still can't believe the Jets are up 3-0 and have a chance to wrap it up tonight at home.
I would say I like the Oilers to win this game but not after the way the first 3 games have gone.  The Jets are playing amazing right now and it's hard to bet against them.
But McDavid had 3 assists and Draisaitl and 2 goals and an assist so with them finally getting on the board do the Oilers respond?
I have no idea who wins this game.  I'll avoid a tip and instead just enjoy what's sure to be a great game
No Bet
Graeme: You couldn't pay me to bet on this game. My god I hope the Jets win though.
Knights vs Wild Game 5 Betting Tips:
Scott: The Knights are up 3-1 in the series and Fleury has been amazing.  Over the 4 games in these playoffs he has a 0.99 GAA and a .966 save percentage.
The Wild did win a game but it was the first game and it was a 1-0 win in overtime.   Since then the Knights have won 3 straight outscoring the Wild 12-3.
With the way the Knights are rolling and Fleury's incredible play I see no other way this game goes especially with them at home in front of fans
Knights win in regulation
Graeme: Like I said last time out when we both backed the Knights to win – they've quite simply figured Minnesota out. The Wild were able to cause issues during the regular season but that is all gone here and the adjustments have proven to be working out.
I'll be surprised if this series doesn't end tonight. Unless Wild have some mad goaltending or the Knights get complacent, this one is in the bag.
Knights in Regulation
Canada: 1.90 Odds at Bet365.
USA: -110 Odds at BetOnline.
Everyone Else: 1.90 Odds at Bet365.
(Odds correct as of 2021/05/24 9:20:38 AM EST but are subject to change.)
Follow @BetNHL
Best America Sportsbooks for NHL
BetNHL.ca » Tonights Tips » May 24th, 2021 NHL Betting Tips