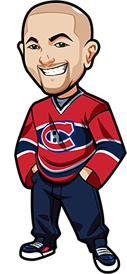 Written by Graeme on Wednesday, May 24th, 2023
Follow @BetNHL
Well I've never seen a team forfeit in an NHL game, but that's pretty much what the Dallas Stars did last night.
What an absolute shit show, and what a little bitch Jamie Benn is. Hope he gets stripped of the captaincy as his cross-check, and subsequent actions, were not worthy of that C.
It's looking like a Knights vs Panthers final, with both teams sweeping.
I get the feeling neither of us are going to be betting on anything until the final.
Panthers vs Hurricanes Game 4 Betting Tips:
Scott: This series has been so close that its been a fun watch. Each of the 3 games in this series have been decided by a single goal and each game the Canes had more shots than the Panthers. There has been 13 periods of hockey thanks to the overtimes and either team has led by more than 1 goal.
Bobrovsky has been money and is why the Panthers are where they are. The Canes outshot them 32-17 but Bobrovsky was there.
The heavier the workload he faces in a game, the better he performs. He has 10 wins in the last 11 games going back to the 1st round.
The Panthers are now up 3-0 and are still in Florida for this game. Barkov was injured in the 1st period so that could be an issue for the Panthers going forward.
I thought the Panthers would win this series but I didn't think it would play out the way that it has. I didn't think the Canes would get swept so I want to take them to win this game but I'd rather just skip.
No Bet
Graeme: This isn't one where there's any real angles to attack it from. It's just the same old story – the Canes unable to beat Bobrovsky in tight games.
The Panthers struggled in pressure situations like this when the regular season was happening, but Bobrovsky has been able to help them perform and they were able to beat the Leafs.
The odds for the Panthers are quite nice too at 1.86ish. I do wonder if we will see that pressure get to the Panthers, or if the Canes will be able to get past Bob and get some confidence goingf.
Honestly, I'm probably going to bet something here but I have no idea what it is. There's no real fundamentals to it. If I were to back anything, it'd probably be the under 5.5 at 1.83 odds. If the Canes can't get past Bob, that should stay under. Or if the Canes do get past him, are they going to rattle a bunch past him? I can't really see it.
But man, under 5.5 in a playoff-elimination game just seems so weird.
Nothing I can advise here with any degree of confidence. No Bet.
And look, to save some time for tomorrow here's thoughts on Game 4 as we both feel similar:
Stars vs Knights Game 4 Betting Tips:
Scott: The Knights came ready for this game and were the better team by miles. They improved to 5-1 as the visiting team in this postseason
The emotions have boiled over for the Stars with their captain Jamie Benn playing 42 seconds and cross checking Stone in the head and getting thrown from the game.
The Knights scored 3 times in the first 7:10 of the game and it was smooth sailing from there. After those 3 goals the Stars pulled Oettinger and went with Wedgewood. It's never good to take a bad loss in the playoffs but it's even worse when you're down 2-0 in the series and get embarrassed on home ice.
I can't back the Stars again until they show me a reason to do so and they are running out of time to do that.
No Bet
Graeme: Absolutely nothing here. Stars self-combusted. I think mentally, that's them done. I don't think they have the drive. They did create a couple of good chances after that early rally, and on the ice I think they can perform well still. But I have zero confidence in their mentality. No bet.
Follow @BetNHL
BetNHL.ca » Tonights Tips »