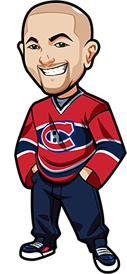 Written by Graeme on Sunday, May 24th, 2020
Follow @BetNHL
It was a fun weekend of sports with the Bundesliga and AEW and we have the charity golf tournament with Brady, Manning, Mickelson and Woods taking place today.
It's not a replacement for the usual big selection of soccer, basketball, hockey etc but man I'll take it.
Betting recap wise on what I posted here – AEW was 1-2 for an overall break even push due to Cody winning at 3.00 odds.
The odds had changed from when I originally did my tips on that one however if you listened to my wrestling betting tips podcast it was much more profitable.
I didn't touch Jungle Boy on there. I had a 3u play on Best Friends which won. I backed Nyla Rose to win as well. So it was a nice and profitable night for me there.
The Bundesliga on Saturday here was pretty much breakeven as I didn't bother unit sizing, and just about the same on Sunday. I had to bets today which was BTTS = No in the Leipzig game and they won 5-0, and under 2.5 goals in the Schalke game. Got unlucky there due to a 76th minute goal and an injury time goal to put it over.
I didn't this time, but that's why I place a lot of bets at Bet365 (Americans: We recommend http://www.bovada.lv – due to the ability to cash out. If I sensed a third goal was potentially coming I would have cashed out but I wasn't really feeling it this time so kept it as is.
I won't be writing again until Thursday now, however we've got a ton of Bundesliga soccer games coming up on Tuesday and Wednesday.
I'll be posting my full analysis of all of these over at BetSoccer.ca over the next two days so be sure to check there. I thought I might give a quick rundown of Tuesdays games taking place here although please note this is just at a quick glance. I'll be doing all my detailed analysis tomorrow so the picks at BetSoccer.ca may differ from this.
Bundesliga Tips for May 26th-27th:
Just some quick thoughts:
Dortmund vs Munich: Bloody hell I can't wait for Der Klassiker. I think Bayern will take it but Dortmund or Draw is 1.83 odds and I think I'll throw a bet on that just for entertainment purposes.
Frankfurt vs Freiburg: Was very disappointed in Frebirg on the weekend. Surprised they are such big underdogs here. Leaning towards Draw or Freiburg. This is one I'll be looking at closely.
Leverkusen vs Wolfsburg: I don't think anyone is going to stop this Leverkusen offense at the moment. At 1.75 I love their price and will be looking at them both to win, and also over on team goals.
Werder Bremen vs Monchengladbach: Monchengladbach are generally good at bouncing back. Leverkusen loss hurt but they still played well. Surprised at Bremen win over Freiburg but the price of 1.80 on Monchengladbach to win seems like great value.
Alrighty that's it for me for a few days. You know where to find my soccer tips although I can pop in to the comments too here no problem. And if you wish to bet the Bundesliga, I advise the following:
Americans bet at Bovada.
Canadians it's Sports Interaction (SIA).
Everyone else it is Bet365 (Americans: We recommend http://www.bovada.lv.
Follow @BetNHL
BetNHL.ca » Tonights Tips »