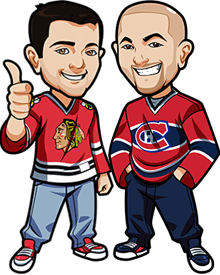 Written by Graeme & Scott on Tuesday, May 25th, 2021
Follow @BetNHL
The Winnipeg Jets are the next team to book their spot in the NHL playoffs as they defeated the Edmonton Oilers in triple overtime.
This was an impressive sweep by the Jets who were betting underdogs all 4 games.
The Islanders took the lead in their series with the Penguins in double OT. Leafs defeated the Canadiens. Price is playing exceptional but alas the rest of the Habs just can't get it going. Campbell made some big stops yesterday.
Florida got the massive win yesterday to keep the series alive. And the Knights had a big 4-2 loss against Minnesota despite a dominating performance.
Leafs and Canadiens are on a back to back and play today. Preds vs Canes also on the board with that series tied 2-2.
Let's get to it:
Leafs vs Canadiens Game 4 Betting Tips:
Scott: Another game where it's back to back.  And yet another game where it was close.
The Leafs won 2-1 but what a close game.  The shots were 29-28 Leafs.
After playing last night who knows how this will turn out.   It's going to be a great game either way.
With no time to turn around, I have no idea how this one goes.  Games are to close together.  I'll skip this game.
No Bet
Graeme: I have to say I'm really disappointed in the Leafs; yeah Price is playing damn good but I was not too impressed with their offensive performance last night. They are lucky the Canadiens offense is fairly flat because a more creative offensive team would take them apart. Campbell saved them last night.
The back to back will make things interesting. Price is confirmed for today.
I bet the Habs yesterday just for the hell of it. So it's hard to go back to that today. I do think it's goalie dependent. If the Leafs go with Campbell, no bet. If they go with Freddie – worth a small bet on the Habs. Carey had a chill third period yesterday he'll be ready for this.
I dunno I lean Habs win purely for value – but like I said I backed it yesterday so don't feel as good backing it today.
No Bet
Predators vs Hurricanes Game 5 Betting Tips:
Scott: After losing the first 2 games, the Preds have won the last 2 and this series is tied at 2-2.
The last 2 games, both Predator wins, each went to double overtime.   The Hurricanes need to make sure they stay out in front as they did in games 1 & 2.  The Predators surely have momentum on their side.  The Canes will need to lean on having their home fans cheering them on to help them.
With each game being won by the home team, I'll follow that and go with the Canes for game 5.
Canes in regulation
Canada: 1.86 Odds at Sports Interaction (SIA) + free $20 bet.
USA: -120 Odds at BetOnline..
Everyone Else: 1.86 Odds at Bet365 (Americans: We recommend http://www.bovada.lv.
(Odds correct as of 2021/05/25 7:53:31 AM EST but are subject to change.)
Graeme: An intriguing game. Hurricanes looked to have this one all booked and ready for the next round but the Preds have stepped up.
Canes were just relentless that last game through all 5 periods yet it was for nought. Predators come in with the momentum. I think the value on the Preds is great right now. They're going to feel confident and they know that they have earned their two wins.
We could see the tides turn due to home ice – but man the way the Preds have been I don't think so. They're excellent value.
The Canes did pick them apart on home ice though. I was going to go with Predators or Draw but sometimes home ice can be such a massive factor. If the games were closer I would take Preds or Draw no question but couple of big wins for the Canes. Plus empty netters are a factor. So I'm going to go No Bet but here are the best odds for Preds or Draw if you are looking:
Canada: 1.80 Odds at Bet365 (Americans: We recommend http://www.bovada.lv.
USA: -125 Odds at Bovada.
Everyone Else: 1.80 Odds at Bet365 (Americans: We recommend http://www.bovada.lv.
(Odds correct as of 2021/05/25 7:53:31 AM EST but are subject to change.)
Follow @BetNHL
BetNHL.ca » Tonights Tips »