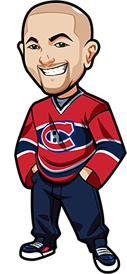 Written by Graeme on Wednesday, May 25th, 2022
Follow @BetNHL
Another great Battle of Alberta.
The Oilers were up 3-0 and blew the lead – with the third goal coming in the most hilarious fashion. Mike Smith man – if they manage to win the cup with him in net, that speaks so much more about the quality of the likes of McDavid.
Oilers managed to take the win though and a hefty 3-1 lead as they head back to Calgary.
The Carolina Hurricanes road woes continue as they lost 4-1 to the New York Rangers. Looking back at 2021 they lost both Game 3 & 4 in Nashville, although did get one OT win in Tampa. In 2020 all 5 games were on the road at the Scotiabank and they lost 4 of the 5.
In 2019 they lost 3 of the 4 games in Washington, winning the crucial Game 7, and both games at the TD Garden, although did sweep the Islanders that year.
Pretty sure when the Canes are on the road in the playoffs, I'll need astronomical odds to bet them.
One game today:
Blue vs Avalanche Bets:
Scott: For the 2nd game in a row the Avs got the win with the offense not coming from their top line. This time it was Kadri who had a hat trick and an assist. And after he had collided with Binnington in game 3 he had received racist death threats on social media so good for him to have big game. That is unacceptable and no one should have to deal with that bullshit ever.
With the Avs wining both games in St. Louis they can win the series at home tonight. They have found their goals scoring 11 times over the last 2 games and will have their home fans there to give them a boost.
I did pick them to win the series in 5 games and I see no reason not to back the Avalanche here.
Avalanche win in regulation
Graeme: Yep Blues are done without Binnington. If they're able to pull it off here or at least force the game to OT then props to them. I just can't see it. A pity that one injury can kill a teams playoff hopes but that looks to be the case here and unless the Avs show up incredibly complacent, they got this.
Avalanche win in regulation
1.68 at B365, not really seeing it a good price anywhere else.
Follow @BetNHL
BetNHL.ca » Tonights Tips » May 25th, 2022 NHL Betting Tips