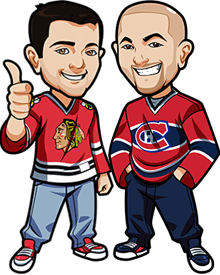 Written by Graeme & Scott on Tuesday, May 26th, 2015
Follow @BetNHL
The Blackhawks and Ducks know that finishing in overtime is not a requirement right? That in the playoffs you're actually allowed to finish in regulation time?
What a series though. It's so nice to see evenly matched conference finals. All 4 teams in it are worthy of being in the Stanley Cup Finals, and that's nice to see. Regardless of who gets in there – it should be a very very tight finals, and something we are looking forward to.
We've got Game 6 tonight between the Tampa Bay Lightning and New York Rangers. The Rangers need to win this one or they are out.
Did you know you can still play Fantasy Hockey btw? The likes of FanDuel are still offering it, splitting the two games. Only $2 gets you a chance of a share of a $6,000 prize pool.
Lightning vs Rangers Betting Tips:
Scott: Huge game from Ben Bishop in game 5. The Rangers had 26 shots and he turned all of them away for the shutout. The Lightning are looking strong right now and the Rangers really have their work cut out for them. Stamkos looks to have finally regained his scoring touch so with him and the Triplets Line, the Lightning are deep. But in what seems to be the Rangers specialty, they have yet another chance to take a series to 7 games where they have had success. Not only this year against the Caps but in playoffs past. Rangers Win for 2.15
Graeme: I'm also of the belief that if this series goes to Game 7, the Rangers take it. However I've loved the Lightning this series. They've really stepped up a gear in most of the games, and their power play continues to be strong. That's always a scary factor; when you can almost count on a goal every time a team gets a power play. It affects the way their opponents play. I think that with Game 7 being a Rangers win – the Lightning need this more than ever. Stamkos is lighting up just at the right time, and everything about their offense says let's go for a Lightning win.
Bet at Bovada for Americans and http://www.Bet365.com for everyone else..
And if you're a UFC fan and have an Android phone, be sure to check out this UFC Trivia App that Graeme created. We'll hopefully be bringing an NHL one later this year!
Follow @BetNHL
BetNHL.ca » Tonights Tips »