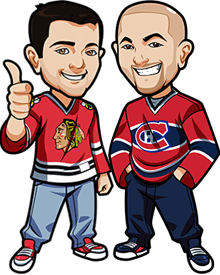 Written by Graeme & Scott on Thursday, May 27th, 2021
Follow @BetNHL
The first games of the next round are known, as the New York Islanders defeated the Pittsburgh Penguins to progress and will face the Boston Bruins.
We called that one wrong as we both agreed on Penguins -1.5 at 2.40 odds.
The Wild tied up the series with the Knights yesterday. This caused Scott's Knights -1.5 pick to lose and Graemes Wild +1.5 pick to win regardless of how Game 7 goes.
Tampa also won their series 4-2. We went with Panthers +1.5 on that one. Alas the return of Stamkos and Kucherov came sooner than expected and they both played big roles in that series.
Today could see two more series wrap up. Let's get right into them:
Leafs vs Canadiens Game 5 Betting Tips:
Scott: Well the Canadiens are on the edge now.
The Leafs had a great game winning 4-0 and Marner and Matthews were both held scoreless.  Campbell had his first career playoff shutout, Galchenyuk had a goal and 2 assists and Spezza, Thornton and Nylander also scored.  A prime example of the Leafs depth in this game.
With the way game 4 went it looks like it's all over for the Habs.  With the Leafs up 3-1 I don't see Montreal digging themselves out of this hole.
Leafs win in regulation
Graeme: My hearty congratulations to the Toronto Maple Leafs on getting a convincing win over the 18th ranked team in the NHL regular seaso. Just hand them the cup already.
If I sound bitter I am. Not at the Leafs but at the Canadian media who have that one freaking game are acting like the Leafs are absolute legends. Like I said 18th ranked team man who have caused them struggles twice already these playoffs. Gimme a break.
If we look at the metrics – the big difference is in goals and chances created. Leafs offense good, Habs offense not. That's pretty much it. Carey Price is the only difference maker on a flat Habs team.
So that's basically what you're betting on. Will the Leafs be able to get by Carey? That's legitimately it.
I was tempted by Leafs -1.5 but I am just not convinced about their against empty net performance. I do believe all it may take is one goal for the Leafs though and I wonder if Habs have lost their belief now. I don't love the odds but I don't hate Leafs in Regulation either based on the fact that it's all about beating Price.
Canada: 1.77 Odds at Sports Interaction (SIA) + free $20 bet.
USA: -130 Odds at BetOnline..
Everyone Else: 1.76 Odds at 888 Sports.
(Odds correct as of 2021/05/27 10:34:02 AM EST but are subject to change.)
Predators vs Hurricanes Game 5 Betting Tips:
Scott: This has been a close series.  The Canes are up 3-2 but 3 games have needed overtime to be completed.
I had picked the Canes to win the series in 5 games but the Preds have been a huge pain in the ass for the Hurricanes.  When 3 straight games go to overtime you know it's been a great series.
The home team has won each game of the series so far and I expect that to happen again in this one.  And for obvious reasons I won't be picking a regulation win.
Predators win incl OT
Graeme: Advanced metric wise, the game on the 25th was one of the Preds weakest performances. Only Game 1 was worse.
At home, they have put on a sensational performance.
They do seem to be scoring above what they should be right now which is a good sign – a hot offense. Just at the right time.
I tipped Preds +1.5 at the beginning so I won't personally bet this one and instead ride that. But I do think Preds win incl OT has enough value here to back it. This is probably much closer to coinflip odds IF the Preds are able to put in a similar performance.
Canada: 2.22 Odds at BetOnline..
USA: +122 Odds at BetOnline..
Everyone Else: 2.22 Odds at BetOnline..
(Odds correct as of 2021/05/27 10:34:02 AM EST but are subject to change.)
Follow @BetNHL
BetNHL.ca » Tonights Tips »