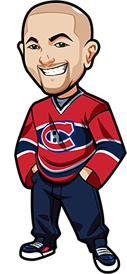 Written by Graeme on Friday, May 27th, 2022
Follow @BetNHL
Well the Battle of Alberta is over. Very frustrating end to it with that Flames goal being chopped off.
Oilers certainly deserved to go through but it sucks that it happened in that way. Still Flames fans can't blame the refs. They conceded on average 5 freaking goals per game, and the only time they won a game was when they scored 9.
Yeah just can't do that.
Canes also got the win. My write-up for that one was omitted yesterday due to an HTML cock-up. My apologies on that and I've edited it back in.
Now we have Avs vs Blues tonight. Ya know part of me wants the Blues to win just due to the fight they showed in that last game. But man I really, really want Avs vs Oilers.
Avs vs Blues Bets:
Scott: Big come back for the Blues in game 5. They were down 3-0 at one point but stayed in the game to force overtime.
I figured that with MacKinnon scoring a hat trick that it was over but credit to the Blues for not stopping.
I want to take the Avs to win this game and also the series here. They won both games in St. Louis this series. But it would have to be in regulation. Both games that were in St. Louis were won in regulation by the Avs. But there has been two games that went to OT in the series so I'm a little worried about taking the regulation. The Avs can't afford to let the Blues win here to force a game 7 when the Blues have had success in Colorado in the series.
Avalanche in regulation
Graeme: When you have a huge momentum swing like that – man, the Blues could really build on that.
I'm of two minds here. I feel the Avs are the better team. They maybe just took their foot off the gas last game and they won't do it here. So they really should make up for that and come out and win here with a professional job.
But on the other hand you have the momentum swing of the Blues and now they will come here, at home, with a nothing to lose attitude and that can be scary.
Honestly I think I'm done with this series. I won my series prediction and I'm happy with that. I'm not even really seeing any player props worth betting – I'd just be forcing it. Just going to sit back and enjoy this one.
No Bet
Follow @BetNHL
BetNHL.ca » Tonights Tips »