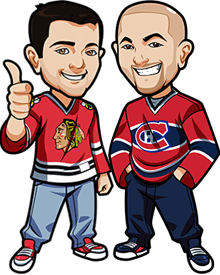 Written by Graeme & Scott on Tuesday, May 28th, 2013
Follow @BetNHL
Wow
The Hawks managed to tie the series and now have forced a game 7 in Chicago. I wish I could have said that I knew this would happen but I would be lying. After a few lead changes the Blackhawks scored 3 unanswered goals in the 3rd on route to their 4-3 victory. Game 7 will take place Thursday at 8:00 from the Mad House on Madison. GO HAWKS!!
Tonight we have another game 7 taking place and its the San Jose Sharks vs The Los Angeles Kings in what is sure to be an intense game. The Home team has one each game in this series and for the Kings they have won their last 6 home games in these playoffs dating back to their round 1 series comeback win over the St Louis Blues.
But the Sharks have also been on a home winning streak. Winning their last 5 games going back to their round one upset sweep over the Canucks. So if this trend is to continue then the Sharks are in for a long night.
With only one game on tonight we are having a tough time coming up with 3 valuable tips so we are only going to suggest 2 that we found to have any value.
So here are the Tips for Tonights Sharks vs Kings Game 7:
Team To Score First: Kings
So with the fact that the Home team has won each game this series we have to think that the Kings will continue their home winning streak and will win this game. Each game in this series has had the winning team scoring first.
So for these two reasons we are going to bet that The Kings Will Score First for 1.77 betting odds at Bet365 (Americans: We recommend http://www.bovada.lv and lets hope that history will repeat itself.
Over 4.5 Goals
Game 7s are intense. Teams game plans are basically thrown out the window and their killer instinct takes over. Nerves are going to play a huge part of this game for all players involved. Well that is if your name isn't Scott Gomez. Gomez will be taking part in the 10th game 7 of his career so you have to think that he has gotten used to this kind of pressure.
With the exception of game 2 each game has stayed under the 4.5 line but tonight should be different at least we hope it will. With each team facing a win or go home situation, both teams will be throwing and leaving everything they have left in them on the ice tonight. Let's hope nerves take over for both teams and they make enough errors for us to cash in on this.
So lets bet that this game will go Over 4.5 goals at Bet365 (Americans: We recommend http://www.bovada.lv for 1.77 betting odds.
Follow @BetNHL
BetNHL.ca » Tonights Tips »