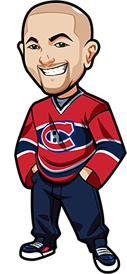 Written by Graeme on Thursday, May 28th, 2020
Follow @BetNHL
Holy crap I can't believe I actually get to write about the NHL again.
There's still a lot to be done of course. Teams have to get back in training. They still have to pick the 2 "hub" cities and so on. Either way – NHL is back.
The first set of games will be a Best of 5 Qualifying Round.
My thoughts are we take a series a day and analyze it. Focus on the NHL here at least for the next week.
If you're looking for my soccer tips you can head on over to BetSoccer.ca because over here at BetNHL? It's NHL ALL THE TIME BABY.
Let's quickly look at the series odds shall we?
Coyotes 2.20 vs Predators 1.71
Blackhawks 2.40 vs Oilers 1.62
Blue Jackets 2.45 vs the team that couldn't beat a zamboni driver 1.60
Panthers 2.05 vs Islanders 1.80
Canucks 1.80 vs Wild 2.05
Penguins 1.52 vs Canadiens 2.65
Rangers 2.15 vs Hurricanes 1.74
Jets 1.95 vs Flames 1.87
You can bet these series currently at:
Canada: Bovada, BetOnline...
Everyone Else: 888 Sports, BetOnline..
Odds will differ depending on the sportsbook so if you're looking to bet these, you should go through the above and compare and go with the best sportsbook.
Now if I was you I wouldn't bet anything right away (unless you see some ridiculous value). Wait and make sure it's on yet. Make sure there's no travel issues or additional injury issues or anything pops up during training camp etc.
For me this is more just early analysis. I am going to be basing this primarily on advanced metrics, and how the team performed in the below two situations:
The first few games they played at the beginning of the season
Their form going into the "break" relative to their league standing and thus motivation
I'll also factor in games the teams played against each other and general playoff ability.
I'm going to through the above games into a random generator and pick one each day to talk about. Todays random one is……
…..drumroll please…..
Coyotes vs Predators.
Coyotes vs Predators Series Betting Tips:
Well – not exactly betting "tips" but you know what I mean.
The Predators finished 5th in the Central Division on 77 pts, and the Coyotes finished 5th in the Pacific. Nashville finished 2nd in the wildcard standings and Arizona 5th.
These two teams played twice during the regular season. The Predators won 3-2 in December and the Coyotes won 5-2 in October. A note for that 5-2 game is Rinne wasn't in net.
Overall power rankings lists have the Preds in about 14th-15th and Coyotes 19th-20th. Power rankings guru felt the Coyotes had the easier schedule by a decent amount.
Looking at the advanced metrics for the first couple weeks of the season – the Predators advanced metric wise got off to a great start but dropped fast. Coyotes advanced metric wise were at their best at the beginning of the season. Preds also had a higher PDO early on. Both teams were about the same xG wise. Coyotes had a solid xGA to begin the year while Preds generally got worse early on after a good start.
Coyotes were a better team at the beginning of the season although it took their offense a couple games to get going. Post All Star week they generally struggled. Couple of big wins of course but weren't really playing like a playoff team. I remember thinking that they just weren't playing like a playoff team.
Preds also started off decent and better offensively. They had that struggling period in November. Post all star break they were very streaky with things like 3 wins, 2 losses, 3 wins, 3 losses then 3 wins.
Conclusion: At this point I am leaning the Predators. I think they're overall the better team and quality will be a big factor. They were the better road team during the season and that will no doubt be a factor. They're the more experienced playoff team and like I said – Coyotes in the last few weeks I just felt weren't a playoff team. So I can't see them going far.
If this series was starting tomorrow, I'd be betting the Predators. I'd probably favour them slightly more than the sportsbooks.
What are your thoughts?
As a reminder, you can bet these at:
Canada: Bovada, BetOnline..
Everyone Else: 888 Sports, BetOnline..
Follow @BetNHL
BetNHL.ca » Tonights Tips »