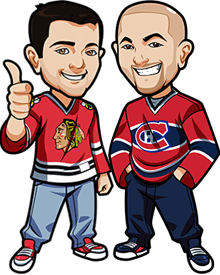 Written by Graeme & Scott on Saturday, May 29th, 2021
Follow @BetNHL
The Vegas Knights progressed to the next round of the NHL playoffs with a convincing 6-2 win over the Minnesota Wild.
It was a great series and it was good for the Knights to get such a win to help them carry that momentum on to the next game.
In this rather all over the place schedule we have the Montreal Canadiens hosting the Toronto Maple Leafs in Game 6. The Habs will have fans in attendance which will be huge for them.
We also see Game 1 of the Islanders vs Bruins series as Boston host NYI. We'll do series analysis for that one.
Let's get right into it:
Canadiens vs Leafs Game 6 Betting Tips:
Scott: Game 5 was nuts.  The Habs jumped out to a 3-0 lead in the early part of the 2nd period.  But the Leafs answered with 3 unanswered of their own to force overtime.  Less than a minute into OT Nick Suzuki scored to keep the Habs playoffs alive.
Game 6 is in Montreal and the Habs have a shot to take this to a game 7.   The Leafs and their fans have seen this happen before.  Now with Montreal back at home, the momentum on their side and the Leafs without Tavares and Foligno the Habs have a good shot at taking this to a game 7.
Although the Habs have a shot I just can't pick them to win this game.  The Leafs know they can't let this go to a game 7.  I'll avoid a tip for this game and just enjoy watching what's sure to be another good one.
No Bet
Graeme: While the fans will no doubt drive the Habs on, that will also have the effect of having the Leafs go strong too. In saying that we've seen some great performances by teams in their first game in front of fans this season.
If there is one game Playoff Price needs to show up, it's this one.
I'll be honest I thought we were done and dusted after Game 4.
I look at this one and look at the odds and similar to the Wild yesterday – feel like we have to bet it. I'm not sure I'd bet it if there wasn't any fans – but it'd still be a consideration with all that has gone on.
The series was more lopsided towards the Leafs initially, but I've seen a lot of improvements from the Habs. The problem is still their offense. They were able to bring it last game which stunned me. Their xG wasn't even that high nor the other advanced offensive metrics – it was just a case of solid finishing which we haven't been able to see much.
Leafs are the better team. Leafs deserve to be favourites. But with all the factors here I do think there is value on the price. I said similar yesterday for the Wild. They lost and it is what it is. I still felt with the information going into that one it was the right play and it's similar here.
I'm going to be a tad more conservative though and bet Canadiens +1 in Regulation.
Canada: 1.80 Odds at Bet365 (Americans: We recommend http://www.bovada.lv.
USA: -125 Odds at Bovada.
Everyone Else: 1.80 Odds at Bet365 (Americans: We recommend http://www.bovada.lv.
(Odds correct as of 2021/05/29 11:20:09 AM EST but are subject to change.)
Bruins vs Islanders Series Betting Tips:
Scott: The Islanders upset the Penguins in 6 games.  The Bruins did the same thing to the Capitals in 5 games.
This series features 2 of the top 4 defensive teams during the regular season so it could be a low scoring series.   They played each other 8 times during the regular season with the Islanders winning 5 times.  But the Bruins found their footing and won the last 3 games against the Isles.
Isles goalie Ilya Sorokin has been amazing so far and was a huge part of the Isles success in round 1 going 4-0 after taking over for Varlamov.  For them to keep going they will need him to keep playing like he has.
Rask was also good for the Bruins going 4-1 with a 1.81 GAA and a .941 save percentage.   The Bruins have a much better offense than the Isles do and adding Hall at the deadline really helped them.
This series will come down to a goalie duel.  And with Rask having plenty of experience vs the rookie Sorokin the Bruins have the edge.
The Bruins have had 5 days off which will help them.   They will be rested and ready for game 1.  With the extra time off the Bruins will be fresher and in better shape if this series goes long, which I think it will.
Graeme: It didn't really surprise me that the Bruins won their series. I backed the Capitals based on it being what I felt was a 50/50 series. I think that proved correct in the initial few games.
While I don't want to blame him – I think the Capitals just lost it mentally after that Samsonov mistake cost them in Game 3. They didn't have the same drive in the next gwo games I felt and that ended up being crucial. Still all credit to Boston on that one.
Islanders did surprise me. Well – sort of. I had a lot of faith in the Penguins based on their regular season performances but man they just didn't show up as much in the playoffs. Much like we have seen from them in the past funnily enough.
It was interesting looking at the advanced metrics here. Islanders were the bogey team for the Bruins early on but Bruins got to grips with them. April 15th Islanders were locked down and had zero HDCF which is just nuts.
The last few games by Boston against the Islanders were impressive. They seemed to be in playoff mode there and that should bode well for them going forward. Can't discount Trotz of course and the Islanders knew how to beat Boston early this season. But I do think Boston are the better team.
The odds for this are tough. Neither of us have a ton of confidence in it but it's either this or no bet, so Bruins -1.5 is the play. In saying that the odds have dropped drastically on this one. It was 1.86 a few days ago and we were happy with that. At 1.76 probably not too much. Personally we'd skip anything 1.80 or below but here are the best odds anyway.
Canada: 1.76 Odds at Bet365 (Americans: We recommend http://www.bovada.lv.
USA: -140 Odds at BetOnline..
Everyone Else: 1.76 Odds at Bet365 (Americans: We recommend http://www.bovada.lv.
(Odds correct as of 2021/05/29 11:20:09 AM EST but are subject to change.)
Bruins win in 6/7
Follow @BetNHL
BetNHL.ca » Tonights Tips »