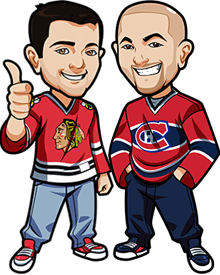 Written by Graeme & Scott on Thursday, May 2nd, 2019
Follow @BetNHL
Wow – how about those Carolina Hurricanes?
With Mrazek out they conceded the goals – two to be exact – but it didn't matter as their offense did the job. It was a tight game but the Hurricanes are an absolute workhorse and ended up running out 5-2 winners.
Hard to see those Islanders coming back from that.
The Dallas Stars tied it up in their series with a 4-2 win. That game heads back to St. Louis now. Love it!
Tonight we've got two game 4s. The Blue Jackets have a 2-1 lead and host the Bruins while the Sharks visit Colorado with a 2-1 lead. The Sharks would absolutely love to win that one and take it home to wrap up the series at the Shark Tank.
Here's our thoughts:
Bruins vs Blue Jackets Game 4 Betting Tips:
Scott: Jackets are flying right now winning 13 of their last 15 games going back into the regular season.
They now have a chance to take a huge 3-1 lead in the series before it moves back to Boston for game 5.
Although the Jackets have the lead and are on a hot streak its still hard to bet against the Bruins. Marchand didnt get suspended for punching Harrington late in game 3 which is crucial for the Bruins. They need to realize how much him not getting suspended means to the team and capitalize on it.
No Bet
Graeme: Such a tight series.
I said last time out that I was tempted to bet each game goes to OT. While I think that's the value play still for this one, I've just got a strong feeling the Bruins take it.
Not just to even up the series. I feel they're the more savvy team. You also have to wonder how that Marchand hit at the buzzer will affect the Blue Jackets. For the Bruins it's just typical Marchand but I can see them getting riled up by it and that taking them off their game.
Watching the media interviews – I just get a strong vibe that the Bruins are going to come out hard and fast here. I'm tempted to bet the Bruins win the first period and I probably will, but with variance being a bitch at times I'll go with Bruins incl OT – 0.5u.
$25 risk free bets on player prop, in-game bet and $50 risk free mobile bet. Available for NEW customers only at BetOnline.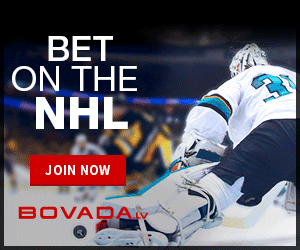 Sharks vs Avalanche Game 4 Betting Tips:
Scott: The Sharks have the confidence going for them here as they have twice came from behind to win and lead the series 2-1. And they are getting some amazing play from Logan Couture with captain Joe Pavelski out.
The Avs have to cut down on their turnovers as it played a huge role in game 3.
Its the confidence the Sharks have that is going to push them to a victory here in my opinion. If they are trailing in the game, they know they aren't out yet.
Sharks win incl OT/SO – 0.5u
Graeme: Game 3 was an interesting one as it really felt like the Sharks were quite simply the better team. Grubauer kept them in it.
The Sharks I think will carry that momentum over and win this one. Unfortunately the coinflip odds are too much for me here – as it's hard to discount the Avs. No Bet.
Follow @BetNHL
BetNHL.ca » Tonights Tips »