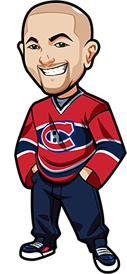 Written by Graeme on Sunday, May 2nd, 2021
Follow @BetNHL
Well although there was nothing official, hopefully you followed along with my own bets yesterday as it ended up being a good little betting day.
After the results this week, nice to have a day like that to remind you all is right with the world.
Only the one game today – I had to quadruple check the schedule on that one – so I'll go over a few of the games yesterday and also cover Lightning vs Wings when I write about it.
Had Bruins -1.5. That was actually a play I initially had as an official play yesterday. But then I had so many potential leans and so much to look into and it was fast coming up I just decided to go the "here's what I'm betting" casual route instead. Bruins got the job done nice and easy.
I dived into the advanced metrics for the Red Wings and mentioned that based on previous games, they were actually good value. It wasn't one I was sure of betting on but as it was the only game on at the time I decided to bet it and ended up getting a butt clenching win. That was nice.
In regards to today – so we know by the metrics, that the Red Wings are a good play. The odds are even better on them today. So it's a case of looking at the goalies and back to back results for the teams.
These two had a back to back head to head series in April where they traded wins with Wings getting the second leg.
Honestly having bet yesterday on them I'm quite happy to take my money and run. The metrics show that Red Wings can win. Tampa aren't an automatic bounce back team etc. They're probably still worth a bet today but I feel even less confident than yesterday. If you bet on them yesterday I'd skip it – if you didn't I'd say take a small shot.
Sens didn't get the win unfortunately. That was one I was on the fence about. Primeau started for Habs and it made me like the Sens enough to bet. Alas they lost in OT.
Islanders got the convincing win which was nice to see. And hey look at that an over came in with the Avs/Sharks game going over.
Metrics didn't back the Preds but my gut said they'd win and they did so. Alas I didn't bet that one. I just can't bet against the data.
And Oilers got the bounce back. So a nice 5-1 day overall. Good to see after a frustrating week.
Well just the one game today like I said above. I'm avoiding it. No idea how the rest of the season will play out. We've got till like the halfway point in May. After this last week I wasn't feeling good about picks, but yesterday restored the confidence somewhat. We'll see how it goes.
Enjoy a rare quiet almost non-NHL day.
Follow @BetNHL
BetNHL.ca » Tonights Tips »