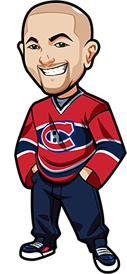 Written by Graeme on Sunday, May 31st, 2020
Follow @BetNHL
So no real news has came out about the return of the NHL over the last 24 hours or so. No surprise as America is a tad occupied with various other things at the moment.
Couldn't believe the NFL releasing that statement. Talk about hypocrisy.
So we'll continue to analyze each series. I know it's early days but for me it's been very helpful thus far. It's helped set up a different mindset to me. For example yesterday I would have said "Penguins no problem" prior to looking at that series.
However when I had a look at it yesterday it helped change my thought process. I still think the Penguins however now it's for more different reasons that I feel more comfortable hanging my hat on.
If you asked me on Friday I would have said "Penguins are quite simply the better team" but there's a lot more to it than that. Thinking of the mindset that the Pens were preparing for the playoffs while the Habs weren't – getting rid of some players for example – helped there and gives me more to go on.
However while this is helping set up my mindset – there's still a long way to go. For example there is rumours the Habs won't be able to have Domi because he is diabetic. That's obviously a factor to consider but we have to wait for 100% confirmation.
I've thrown the remaining 5 series into a random generator and I have pulled out Hurricanes vs Rangers. Let's get to it:
Hurricanes vs Rangers Series Betting Tips:
The Carolina Hurricanes finished the season in 4th place in the Metro. They were in the #1 wild card spot however just 4 points separated the top 5 there. There was no guarantee that they were going to make the playoffs although they had games in hand as an advantage over some.
The New York Rangers finished 7th in the Metro but 4th in the Eastern wild card standings.
These two teams played 4 times in the NHL season, with the New York Rangers winning all 4 times. Here were the results:
Feb 23: Hurricanes 2-5 Rangers
Dec 27: Rangers 5-3 Hurricanes
Nov 27: Rangers 3-2 Hurricanes
Nov 7: Hurricanes 2-4 Rangers
Very impressive by the New York Rangers. The Rangers were involved in one of the more notable stories of the season as well. They were looking to trade Kreider. They then got the results together to where they could make the playoffs and decided to keep him – only for him to get injured. Despite that the heads never went down.
Last season the Hurricanes participated in the playoffs and beat Washington 4-3, Islanders 4-0 then got thumped by the Bruins 4-0.
I honestly feel very, very good about the Rangers. Don't get me wrong I am still bitter about that game they phoned it in against Buffalo. I think that bet was probably the most confident I've been about a bet all season and that's why I'm still instantly reminded of it.
However the Rangers matched up well with the Hurricanes. They should have Kreider back. They will feel they have been given a second chance and will be motivated.
Advanced metrics wise – Canes always kill it there obviously. They came out strong in those. Rangers never really got going in xG share over time until post all star break. Soon as they lost Kreider they disappointed again there.
Results wise, Hurricanes got off to a great start with 5 wins. They ended the season on a 3 game winning streak as well after shaking off a 4 game losing streak. This was in part due to goaltending issues. Such as you know PLAYING A ZAMBONI DRIVER IN NET. Fun fact: they actually won that game.
Rangers got off to a 2 game winning run before losing their next 5. They were stuttering a bit to end the season but were hanging in there.
Either way, this should be a hell of a series. You've got the Hurricanes, who are one of the best and most consistent offensive teams in the advanced metrics. Then you've got the Rangers who have been given a second chance, and should be more motivated here.
Conclusion: The Rangers may disappoint me like that February 7th game against Buffalo. However as of this moment I am looking at them as the team to back. It all depends on injuries and so on, but despite the Hurricanes strength right now I would be looking at The New York Rangers to win this series.
You can bet this series currently at:
Canada: Bovada, BetOnline...
Everyone Else: 888 Sports, BetOnline..
Follow @BetNHL
BetNHL.ca » Tonights Tips »