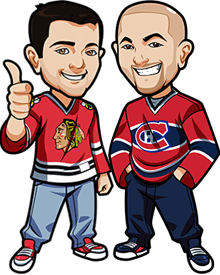 Written by Graeme & Scott on Monday, May 31st, 2021
Follow @BetNHL
The Golden Knights made an interesting decision in going with Lehner over Fleury yesterday. It proved to be a great decision as Lehner held the Avs to just 7 goals.
Tampa won a nice and tight one against the Carolina Hurricanes. That is going to be a good little series.
Today we have Game 2 in the Bruins vs Islanders series, and the Maple Leafs hosting the Canadiens.
The Leafs will have 550 fans in attendance as the buffoon Doug Ford finally caved to public pressure and allowed fully vaccinated healthcare workers to attend – just 24 hours after he said no. Dude is just an absolute bloody twat and we hope he gets locked in a room with Ryan Reaves.
Let's get to the tips:
Leafs vs Canadiens Game 7 Betting Tips:
Scott: What a game that was.   Game 6 was incredible and such a blast to watch.
For the 2nd game in a row Montreal had a nice lead only to have the Leafs come back to tie and force overtime where the Habs came away winners.
As far as playoff hockey goes, you couldn't ask for a better scenario then a game 7 between 2 original six teams.  As a Canadian hockey fan this is like Christmas at the end of May.
I have no idea who will win this game.  It has been an incredible series and it could go either way.  Like I did for game 6 I have no tip for this game and will just watch and enjoy.
No Bet
Graeme: Well I'm riding my Habs to win the series bet that I really didn't expect to actually be a potential reality. My god I hope it's true I have many, many friends who will be receiving my betting slip later tonight if it comes in.
I don't see it though. I mean look love the Habs and so on and boy I'd love a Leafs cockup tonight, but I get Game 2 vibes from this one. Especially after the way the Leafs dominated overtime last time out.
I think we see a nice convincing win for the Leafs. With the healthcare workers there, considering everything they have gone through, I honestly won't mind that too much.
Leafs In Regulation
Canada: 1.80 Odds at Sports Interaction (SIA) + free $20 bet.
USA: -130 Odds at Bovada.
Everyone Else: 1.76 Odds at Bet365 (Americans: We recommend http://www.bovada.lv.
(Odds correct as of 2021/05/31 10:37:02 AM EST but are subject to change.)
Bruins vs Islanders Game 2 Betting Tips:
Scott: What a difference having fans in the seats makes not only for the on ice product but also for the TV viewers.  It felt almost like normal after over a year of this nightmare we have all been living in.  After Pastrnak scored his hat trick and seeing all the hats come raining down on the ice it was awesome.  I'm not even a Bruins fan but couldn't help but feel committed to them with the home crowd going bananas.   Man I missed that.
After seeing how the Bruins responded to having over 17,000 people in the stands, I expect them to again feel the crowd as they cheer on their B's.
I'm sure when the series moves back to New York the crowd will have the Isles buzzing but until then I'll back the Bruins at home for game 2.
Bruins in regulation
Graeme: It was an excellent and very convincing performance from the Boston Bruins in Game 1.
I liked the Bruins to win the series and that game didn't change anything. Islanders will have to put in a better performance here but i'm happy to ride the Bruins.
Bruins in regulation
Canada: 1.89 Odds at Sports Interaction (SIA) + free $20 bet.
USA: -120 Odds at Bovada.
Everyone Else: 1.83 Odds at Bet365 (Americans: We recommend http://www.bovada.lv.
(Odds correct as of 2021/05/31 10:37:02 AM EST but are subject to change.)
Follow @BetNHL
BetNHL.ca » Tonights Tips »