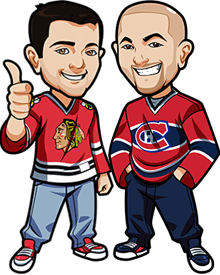 Written by Graeme & Scott on Sunday, May 3rd, 2015
Follow @BetNHL
It's so easy to write Ovechkin off. There are so many games where he just does not show up. And then you have things like yesterday – where he pulls off incredible moves such as that goal. Holy crap – the dude is falling over, and still manages to split the defense and score a wonderful goal.
The guy gives us goosebumps in ways you wouldn't even think possible. Just amazing.
So it's tied 1-1 in that series. And what a day yesterday for sports. That Spurs-Clippers game; wow. So tight and Griffin stepped up. Props to him – I just can't see the Clippers going far though with such a lack of depth.
Then the Mayweather fight. What a hilarious mess that was from the PPV end of things; just a disaster. And it's 2015 and boxing STILL hasn't figured out that they need an undercard. Amazing. With Mayweather planning on retiring – man, is that sport ever screwed.
Tonight in NHL we've got 3 games. Let's see what we got:
Lightning vs Habs Betting Tips:
Scott: The Habs scoring problems continued in the first game. It wasn't until the third period that any goals were scored but they traded goals in the third and it took a period and 2 minutes of OT for the Lightning to come away with the win. I like the Habs in this one. Fatigue is going to haunt the Lightning after playing 7 games in round one and then another 4 plus periods in game one.
Habs Win for 1.80.
Graeme: Game 2 was a really tight game. Thrilling too. Honestly based on that game, I believe the teams are evenly matched. And when they're evenly matched, you go with the better odds. There's very slight value on Lightning 2.10.
Wild vs Blackhawk Betting Tips:
Scott: After jumping out to 3-0 lead, the Hawks let the Wild back into game one. They still won 4-3 but will need to find a way to hold a lead once they have one. Hawks at home again so I have to ride them where they haven't lost yet during these playoffs. Hawks Win for 1.74
Graeme: I was hoping the Wild would have high odds on them, but 2.15 is useless. I'll go with Over 5 as I think any game in this series could explode. Of course it could also be a goalie clinic – but the odds are in our favour for this one.
Flames vs Ducks Betting Tips:
Scott: Game one was all Ducks. I like the Flames to bounce back in this one and at least make it closer than the first game. But I still see the Ducks owning this game and the series. I hope I'm wrong here. Ducks in Regulation for 1.74.
Graeme: Until the Flames show they can hang with the Ducks, I'll blindly bet the Ducks. Ducks in regulation.. Like Scott – I'd like to see the Flames bounce back.
$25 risk free bets on player prop, in-game bet and $50 risk free mobile bet. Available for NEW customers only at BetOnline.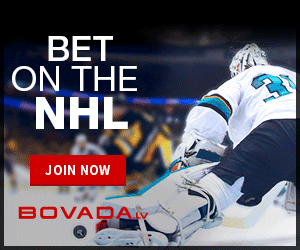 Follow @BetNHL
BetNHL.ca » Tonights Tips »