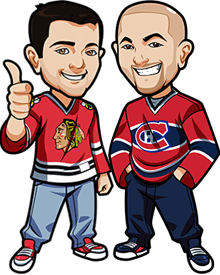 Written by Graeme & Scott on Thursday, May 3rd, 2018
Follow @BetNHL
Two big wins last night in the NHL has made for two interesting series.
The Tampa Bay Lightning gave the Boston Bruins a 4-1 thumping in Boston. The fortress that was TD Garden is crumbling and that's going to be cause for concern for the Bruins. Tampa did what they had to do with a double from Palat and a goal from Stamkos and the Bruins will need a much bigger effort going forward.
The Vegas Knights got a 4-0 pounding from the Sharks and now they have to return home reeling from that. It's going to be interesting to see if they are strong enough to come back from that or not – the Sharks will be feeling fairly confident having won already in Vegas this series.
That's one nice thing at this stage – when every game is so tight. It makes it harder from a betting perspective for sure but from a viewing perspective it's much more fun.
Let's see what we've got tonight:
Penguins vs Capitals Game 4 Betting Tips:
Scott: The Caps have a chance to take a 3-1 series lead in this game.  But they will have to do it without Tom Wilson as he was suspended for 3 games due to a hit on Aston-Reese that broke his jaw and gave him a concussion.
Washington has been amazing on the road in these playoffs having not lost away from home.  But these are the Penguins and you can't count them out.
I'm rooting for the Capitals in this series as it would be nice to see them move on against the Penguins for a change.  But again it's the Pens and they'll come ready for the game.
No Tip 
Graeme: It's always hard to really judge the Capitals in the playoffs due to their history and the way they've let everyone down over the years. Even as they lead 2-1 with two great performances in there; one of which was against a rejuvenated Penguins after getting back Malkin back.
I think that taints things because I cannot back the Capitals at this time – I'm just waiting for them to fail as they always do which is frustrating as all things considered, the odds for this are great.
Penguins might have had some adjustments what with Malkin coming back and will be more motivated tonight you'd think. They've lost 2 in a row and they want to take a tied series back to the Capital One Arena.
I see more "pros" than "cons" when looking at backing the Penguins, but the odds don't justify it. I also see some slight value in the Caps, but can't get behind them. So No Bet for me.
Jets vs Predators Game 4 Betting Tips:
Graeme: Last time I went with the Jets but the odds don't justify it this time. I mean they were 3-0 down. That's ridiculous. And even though they came back and won you can't count on that every time even though they'll have the confidence to.
I think there's nice value on the Preds to be honest, but I'm not betting against the Jets at home.
No Bet.
Scott:  This has been the best series so far in my opinion. 
In Game three the Preds held a 3-0 lead after the 1st period and it looked like they would walk away winners.   The Jets responded big time scoring 4 unanswered in the 2nd and 3 more in the 3rd and won 7-4.
With the series still in Winnipeg and the momentum gained from that huge comeback win in game 3 the Jets will be flying, no pun intended, but this is the Preds and they have faced these situations before.
I can't predict a winner as this has been such a great series.  But with the last two games going over I expect more of the same in this one.
Over 6 incl OT – 1u  
Follow @BetNHL
BetNHL.ca » Tonights Tips » May 3rd, 2018 NHL Betting Tips