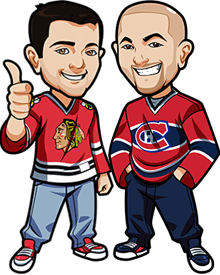 Written by Graeme & Scott on Tuesday, May 3rd, 2022
Follow @BetNHL
Clifford. What a dumbass. Fun night of playoff hockey. Always find Game 1s fun because a lot of thoughts you had before the series began – you immediately scrap them based off that first game ha.
Today, May 3rd, we see the remaining four series of the NHL playoffs kick off, and we will cover them here.
We've got the Rangers vs Penguins, Panthers vs Capitals, Avalanche vs Predators and Flames vs Stars.
Lot of lopsided odds on these ones other than the Penguins vs Rangers series which is a coinflip.
Here are our thoughts:
Rangers vs Penguins Series Betting Tips:
Scott: The Rangers finshed in 2nd in the Metro 110 points, the Penguins finshed in 3rd with 103.
They played 4 times and the Rangers won 3 of them.
The Rangers are a team that could have a long postseason. They are deep offensively. Panarin, Zibanejad, Vatrano, Strome, and Kreider will put up points. Depth guys like Lafreniere, Motte and Copp are crucial players who are needed for a long playoff run. Fox, Trouba, Miller, Braun and Lindgren are their top dmen and that's a strong group. Shesterkin had a Vezina caliber year and if he has an off night then Georgiev is an amazing second option.
The Pens are always a deep team but at some point the skills of their top guys will slow down as age catches up with them. Crosby and Malkin have the ability to take over a series. Throw in Carter, Guentzel, Rust, Rakell and Rodrigues and they shouldn't have a problem scoring. On defense as always it's Letang but after him the talent level slows down. Matheson and Marino are good but not at the same level as Letang. In goal they have Jarry as their starter and DeSmith as their 2nd. Jarry is good and if he can go on a run then he can help with their defense but he is currently dealing with a broken foot so who knows when he will be back tonight 100%.
The Penguins are a great team and when you have Crosby and Malkin you have a shot to win every night. But the Rangers were awesome this year and have a deep team. With the Pens having issues with Jarry I like the Rangers to advance
Rangers in 5 or 6
Graeme: It's great to see the Rangers here and I'm rooting for them. I always felt bad for them in 2020 when they re-signed Kreider and were looking for a run at the playoffs only for him to get injured. They still made it but got thumped by Carolina.
In the matchups between the two, the Rangers were overall better in the adanced metrics. Just solidly better. Not in the 3-0 victory but that was due to the way the 3rd went with the Pens trying to get back into it.
The overall advanced metrics are a bit concerning for the Rangers. One of the worst teams in the offensive stats. It's an intriguing one because if you go by the overall advanced metrics, the Pens are the team to back. While if you go by the matchups, it's the Rangers. Rangers of course have Shesterkin who could be a massive factor, and with Jarry missing a couple of games, that could be a big concern.
With Jarry out I'm happy to back the Rangers to win the series. I think they also do it in 5 or 6.
Ontario: 1.90 Odds at 888 Sports.
Rest of Canada: 1.90 Odds at 888 Sports.
USA: -115 Odds at Bovada
Everyone Else: 1.90 Odds at 888 Sports.
(Odds correct as of 2022/05/03 8:05:59 AM EST but are subject to change.)
Panthers vs Capitals Series Betting Tips:
Scott: The Panthers finshed 1st in the Atlantic, and league, with 122 points, the Caps finshed in the 8th and final wild card spot with 100 points.
They played 3 times during the regular season and the Panthers won twice. But all 3 games were decided by 1 goal.
They didn't win the Presidents Trophy by accident, the Panthers are amazing. They are deep and had 4 players score over 30 goals. Huberdeau is outstanding and Barkov and Reinhart join him on the top line that are hard to contain. They also have Giroux, Duclair, Bennett, Verhaeghe and Marchment. They also have Thornton, Lomberg and Hornqvist as depth pieces. Just a scary offense. On defense they are lead by Ekblad but have Weegar, Chiarot, Forsling, Montour and Gudas to give them one of the best groups in the league. Bobrovsky had a great season and should he need help they have Knight ready to take the reins and run with it.
Ovechkin doesn't seem to be bothered or slowed down by age. He still scored 50 goals and can take over a series. Kuznetsov is a point per game player and Wilson is an intimidating player who can also put up points as long as he can stay out of trouble. Sheary, Mantha, Backstrom and Oshie are great secondary options. Eller, Dowd and Hathaway are good depth pieces that are needed to have success in the playoffs. On defense Carlson is still a star and Orlov is more than adequate. But after those two it drops off for them. van Reimsdyk and Schultz are okay but they may need more from Jensen and Fehervary to strengthen one of their weaknesses. Samsonov and Vanacek are goalies 1A and 1B and both are good but one has to be their starter and ride him knowing they have help if needed.
I just see no real weaknesses on the Panthers. They were already a stacked team and then added Giroux and Chiarot, who is a perfect playoff defenseman. They look like a team who can and should go on a long playoff run this year.
Panthers win in 5 – bet would have to be -2.5.
Ontario: 2.20 Odds at Bet365 (Americans: We recommend http://www.bovada.lv
Rest of Canada: 2.45 Odds at BetOnline.
USA: +145 Odds at BetOnline.
Everyone Else: 2.45 Odds at BetOnline.
(Odds correct as of 2022/05/03 8:05:59 AM EST but are subject to change.)
Graeme: By the advanced metrics, the Florida Panthers were the best team in the NHL this season. They were a top 5 team last year as well but couldn't overcome Tampa. The Lightning were incredibly strong in CA/60 and FA/60 last year.
Now they face the Washington Capitals. The Panthers are one of the top favourites to win the cup and for good reason. By the defensive metrics, the Capitals are a Top 10 team. Offense is what lets them down in Corsi and Fenwick, although they did have the 4th lowest xGA/60 of the season.
In the three games between the two, the Capitals were able to keep up with the Panthers on goalscoring and of course beat them in one of those games. The advanced metrics are interesting as the November 30th game was insanely dominant for the Panthers.
Washington are also one of those teams that I swear just love to play spoiler. The fact that they are going against the Panthers I feel they will thrive on.
This is another series where the overs could be big. In the second half of the season, I became concerned with the Panthers on the road when looking at their metrics. The good news is Washington weren't exactly a juggernaut at home – and were actually much better on the road.
I like the Panthers to win this series, but I do think Washington will be able to keep up with the goals department and take a few here. I'm going to go with Over 5.5 Games in this series.
Ontario: 1.80 Odds at Bet365 (Americans: We recommend http://www.bovada.lv
Rest of Canada: 1.80 Odds at Bet365 (Americans: We recommend http://www.bovada.lv
USA: -135 Odds at Bovada
Everyone Else: 1.80 Odds at Bet365 (Americans: We recommend http://www.bovada.lv
(Odds correct as of 2022/05/03 8:05:59 AM EST but are subject to change.)
Flames vs Stars Series Betting Tips:
Scott: The Flames finished in 1st place in the Pacific with 111 points. The Stars were the first wild card team with 98 points.
They played 3 times with the Flames winning twice.
The Flames had a great year. They are talented and have a few players who can make any game a horrible experience. Gaudreau and Tkachuk had amazing years with both going over 100 points. Lindholm, Mangiapane, Backlund and Toffoli round out their top 6. Lucic, Dube, Jarnkrok and Coleman are great players to have to ease the burden on the top guys to produce every night. Their defense is good but if there's one weakness the Flames have its there. Andersson and Hanafin are their best and Tanev and Kykington round out their top 4. Gudbranson and Zadorov are decent but are prone to mistakes. Markstrom was amazing this season and can take over a series with his play.
The Stars have a decent offense. Pavelski is 37 yet still puts up about a point a game. Robertson had a good year scoring more than a point per game. They also have Seguin, Benn and Radulov who all saw their numbers decline but are still capable players. On defense they are good and if they have any success this postseason it will be because of them. Heiskanen is and will continue to be a star for years, Klingberg is another who can put up points from the backend. Throw in Suter and Lindell and the Stars have a solid top 4. In goal Oettinger is thier starter and has been good with Holtby out but he has very little playoff experience which may hurt them.
The Flames are often overlooked with most attention going to the Avalanche and the Panthers but they are a great team. The Stars are getting older and will have a tough time keeping up with the Flames.
Flames in 5
Graeme: Betting hockey and analyzing each and every game over the course of a season is always interesting. One thing I dig is coming up with different trends or biases that influence the way you bet.
The Stars were one of those for awhile. Back them at home, bet against them on the road. They got better on the road eventually which helped them make the playoffs, but it always made my life easier to look to see where they were playing that night, then I knew what bet to always look for.
Scoreline wise these games were quite close. Even by the advanced metrics, it wasn't as clear cut for the Flames in 5 vs 5s, It was more dominant for them when we look at all strengths.
It'll be interesting seeing how Dallas approach things. They really should just go all out in the games in Calgary and take greater risks, then play their usual style at home.
I think the Flames are a powerful team and a strong contender for the cup. They were one of the best teams by the advanced metrics along with the Panthers and they delivered on the ice.
I know the Stars can perform at home though and I think they can take at least one game. I just think the Flames are too overpowered for the Stars to keep up with them though. There certainly is the possibilty that the Stars can sweep their home games based on the performances there, but Calgary believe this is their year and will be well prepared for visiting Dallas.
Flames in 5 or 6. Flames -1.5 is the play.
Ontario: 1.73 Odds at 888 Sports.
Rest of Canada: 1.73 Odds at 888 Sports.
USA: -145 Odds at Bovada
Everyone Else: 1.73 Odds at 888 Sports.
(Odds correct as of 2022/05/03 8:05:59 AM EST but are subject to change.)
Avalanche vs Predators Series Betting Tips:
Scott: The Avalanche finshed in 1st place in the Central with 122 points. The Preds were the 8th ans and final wild card spot with 97 points.
They played 4 times this season and the Preds had success winning 3 times bit two of them were in overtime.
A real threat to win the Cup is the Avs. MacKinnon, Rantanen and Kadri are all amazing and once healthy Landeskog is just another option. Burakovsky, Nichushkin and Lehkonen give them some great depth. Makar is a superstar and he can take over a game no problem scoring over a point per game. He is joined by Toews, Girard, Manson and Byram to give them a great defense. Kuemper had a great year and it's a boost knowing that he is back there and more than capable to make huge saves. Francouz is their backup and he also had great numbers should Kuemper go on a slump.
The Preds had good years from Duchene, Granlund and Forsberg. Johansen and Jeannot are their secondary offensive options. It gets pretty thin after those 4. The Preds have always been a strong defensive team and that won't change this season. Josi leads the team in points and is a huge part of their success. Ekholm and Carrier give them 3 solid defensemen. In goal they had Saros as their starter but his status is up in the air for the playoffs. If he isn't able to play then Rittich will he their starter which will be a big step down for them as he is better suited as a backup.
I just can't see how the Preds take down the Avalanche. They are without Saros which really hurts them. The Avs are deep and built for playoff hockey and will be looking to get revenge after losing the season series against them . I could see this being a sweep but I'll give the Preds 1 game.
Avalanche win in 5 – Avs -2.5 is the play.
Ontario: 1.83 Odds at Bet365 (Americans: We recommend http://www.bovada.lv
Rest of Canada: 1.83 Odds at Bet365 (Americans: We recommend http://www.bovada.lv
USA: -115 Odds at Bovada
Everyone Else: 1.83 Odds at Bet365 (Americans: We recommend http://www.bovada.lv
(Odds correct as of 2022/05/03 8:05:59 AM EST but are subject to change.)
Graeme: I don't bet in games involving the Preds.
Ugh. Okay I guess I gotta right? Watch these SOBs sweep the Avs now or something just beacuse that it is the bizarro world Preds.
In matchups between the two, the Preds managed to take 3 of the 4 games. Like I said they are a bizarre freaking team.
In all four games, Avs dominated the majority of the advanced metrics. Interestingly where the Avs failed was on high danger chances. Preds got into double figures on high danger changes in every game and had the most in all but the April 28th game.
Interestingly if we look at HDCF/60 over the course of the season, Preds were 5th bottom so on that it's like the way the teams match up that is bad for the Avs. HDGF/60 is 9th for the Predators.
If we look at other teams who have high HDGF/60, the top 4 all hold at least one win over the Avs.
What does this all mean? It means that if the Avs keep allowing those high danger chances against the Preds, then this series could be a lot more interesting than the sportsbooks expect.
Of course the Predators have a big, big loss with Saros out. That's a big loss. It'll be interesting seeing how they play without Saros. You know that the Avs, who are all pretty much healthy, will smell blood.
If it wasn't for Saros being out who knows – I could be convinced to actually bet on the Predators here. Those high danger metrics are consistent.
But I think that is a big loss and my concern is if the Avs take the first couple – even if Saros comes back, the Preds are just broken.
This is one where unfortunately I just cannot make a prediction. If Saros was in, I would easily place a bet on the Predators in some fashion – perhaps +2.5. But I'm concerned the Avs rock up big scores early and it kills the Preds mentally.
No bet.
Follow @BetNHL
BetNHL.ca » Tonights Tips »