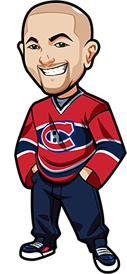 Written by Graeme on Wednesday, May 3rd, 2023
Follow @BetNHL
Last night felt weird, cheering on the Panthers to beat the Leafs.
I mean, I've cheered against the Leafs many times. When I have bet against them, or when I don't have a bet on the game and every fibre of my being just wants them to lose. Bonus points if they lose due to a dubious referee decision.
Yesterday was different. I was cheering on the Leafs to lose, only to green light my "Leafs to win the series from behind" bet, so it was a weird feeling.
Leafs played good in that game. Bobrovsky saved the Panthers a boatload especially at the end.
The Kraken goaltending didn't keep up but that didn't matter as they managed to outscore the Stars. Props to them for the OT win too – most teams would be deflated with how the game went down.
Going to be interesting see how things progress from there.
The final two series begin tonight. Hurricanes host the Devils, Knights host the Oilers.
Here's our series thoughts:
Hurricanes vs Devils Series Betting Tips:
Scott: The Canes beat the Isles in 6 games but two of their 4 wins came in overtime. Aho led the team in points with 7 and goals with 4.
The Devils overcame their lack of experience and won a hard fought series in 7 games against their longtime rivals the Rangers. They were led by Hischier, Haula and Hughes. And Schmid was great picking up 2 shutouts and posting a 1.38 GAA and a .951 save percentage.
These teams finished in 1st and 2nd in the Metro and were separated by a single point.
They played 4 times during the regular season with both teams winning twice.
The Devils are fast team which may give the Canes trouble. This should be a good series and I'm really not sure who wins it.
I think it could go long but with the way the Devils handled the Rangers they gained some much needed experience and I think that should push them through.
Devils in 6 will take them to win the series
Ontario: 1.77 Odds at Sports Interaction (SIA) - Non-Ontario bet $10 get $200
Canada: 1.77 Odds at Sports Interaction (SIA) - Non-Ontario bet $10 get $200
USA: -130 Odds at Bovada
Everyone 1.74 Else: Odds at Bet365 (Americans: We recommend http://www.bovada.lv
(Odds correct as of 2023/05/03 7:35:09 AM EST but are subject to change.)
Graeme: This is one I am really looking forward to analyzing, and am really curious about this series.
Right let's look at the playoffs. Devils are actually quite tricky to fully analyze as there was ZERO balance in the games they played. So I'm going to take these with a grain of salt. In 5 vs 5, Canes better in Corsi, Fenwick, goals scored but lower xGF. Better SCGF. Things a bit different in all situations with Devils scoring less, but better SCGF/60 and much better xGF.
Yeah that doesn't tell me too much, other than based on that it looks tight. Like Devils a better HDCF but Canes better HDGF. 50/50 at this point for me.
Regular season – Canes were the machine they usually were, but Devils were very, very close to them. Like, ludicrously close. Canes have been an advanced metrics machine for years. As an example of how close it is – in xGF 3.17 for Canes #1, Devils #2 with xGF 3.15.
Defensively over the course of the season, Canes were a bit better compared to the offensive difference. But it's not overwhelming. And Devils do pip them in SCGF/60.
Let's look at a few key points in the season. Still close but with Canes generally beating them in each category. Now if we look at the first two months of the season, when the Devils were at their best? Canes pip them in most advanced metrics there too. Obviously, Devils scored more and conceded less, and have better xG too.
How about games they played against each other? 2-2 split. Canes generally better metrics other than that 3-0 game March 12th. I remember that weekend as I had Canes the day before against the Knights and they got blasted. Just seemed an off weekend for Carolina.
Overall, everything is pointing at Carolina. So I am pretty freaking stunned to look at the odds and see them as dogs.
Getting away from the metrics – the Canes certainly struggled at times against the Islanders. But the Islanders are a feisty team and I did expect them to give them troubles.
The Devils? You have to remember they had three games where they were absolutely blasted by the Rangers. And I feel a lot of the problem there is what haunted the Rangers late in the regular season; their offense just didn't turn up or couldn't get the job done.
I'm Canes all the way here.
Canes to win the series. I personally think they'll do it in 6 although with the dog odds, happy to take em to win and dump a couple extra betting units on it.
Ontario: 2.15 Odds at Sports Interaction (SIA) - Non-Ontario bet $10 get $200
Canada: 2.15 Odds at Sports Interaction (SIA) - Non-Ontario bet $10 get $200
USA: +110 Odds at Bovada
Everyone Else: 2.15 Odds at Bet365 (Americans: We recommend http://www.bovada.lv
(Odds correct as of 2023/05/03 7:35:09 AM EST but are subject to change.)
Knights vs Oilers Series Betting Tips:
Scott: This will feature the top 2 draft picks from the 2015 draft in Eichel and McDavid.
The Knights beat the Jets in 5 games and a big part of that was big injuries to key players. They were led by Stone and Stephenson with 8 points and Stephenson and Karlsson both scored 4 times. Good numbers for only playing 5 games.
The Oilers beat the Kings in 6 games. They were led by Draisaitl who had 11 points and McDavid and Bouchard both had 10. Draisaitl had 7 goals.
They played 4 times during the regular season with the Oilers winning 3 times including twice in Vegas. The Oilers had the better offense ranking 1st where the Knights were 14th, have the edge in nets and have a much better powerplay.
With the better offense and goalie and with these teams being separated in the standings by only 2 points I think the Oilers win this series.
Oilers in 6
Graeme:. These two progressing never really felt in doubt. Jets were just not as good as the Knights. And the Kings got an unlucky draw. I feel like they could beat most teams in the playoffs, but I just felt the Oilers offense would be too much for them.
Let's run through the playoff metrics, bearing in mind Knights had the easier series. In 5 vs 5, Oilers were a top 3 offense. Knights actual offensive metrics aren't that impressive. They were just a lot more clinical in their finishing, with the best SCGF/60 by a long shot. 3.44. Next was the Panthers at 2.64.
In the regular season, Oilers were better than the Knights by a decent amount in most categories, except GA/60 & xGA/60. Still a better CA & FA. And Oilers had a ludicrous SCGF/60 of 3.37. No ever team got over the 3 mark.
Looking at a few key points in the season data, it's similar. Conclusion thus far: Knights offense needs to step it up a gear in terms of what they generate, and they also need to keep this ridiculous clinical finishing going.
Let's look at matchups between the teams. Oilers won 3 of 4, all high scoring games. Oilers offense was overwhelmingly better in most games.
Basically – yeah. Oilers? They just need to keep doing what they've been doing all season long, and they'll be fine.
Knights? They need to step up a few gears offense wise, AND keep up this ludicrous clinical finishing. Which isn't the toughest thing to do against the Oilers. The problem is they're going up against a Max Verstappen in Red Bull like offense.
BTW quick sidenote; I was looking at goalie metrics for this one and holy shit I hope the Oilers got a California 10 hooker for Jack Campbell after that Game 4. Hell, get him 5 hookers. His metrics for that game are beyond stupid. I'm never going to razz on that guy again.
Anyway yeah – Knights I just don't think will be able to handle the Oilers offense. Simple as that. If they do then more power to them, but there's zero in the metrics suggesting they can.
Oilers to win – with the odds, I'll go with Oilers -1.5
Ontario: 2.31 Odds at Sports Interaction (SIA) - Non-Ontario bet $10 get $200
Canada: 2.31 Odds at Sports Interaction (SIA) - Non-Ontario bet $10 get $200
USA: +120 Odds at Bovada
Everyone Else: 2.30 Odds at Bet365 (Americans: We recommend http://www.bovada.lv
(Odds correct as of 2023/05/03 7:35:09 AM EST but are subject to change.)
Follow @BetNHL
BetNHL.ca » Tonights Tips »