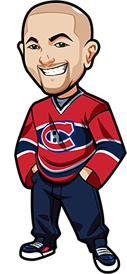 Written by Graeme on Thursday, May 4th, 2023
Follow @BetNHL
We saw Game 1 in the other two series take place last night.
The Carolina Hurricanes absolutely thumped the New Jersey Devils. I'm still surprised they were placed underdogs. I made a bigger bet than normal on that one, so I'm hoping for more wins like that to make it less of a sweat!
Of course you can't count the Devils out. They got destroyed 5-1 by the Rangers twice in a row, then were able to turn things around.
The Oilers scored 4, but the Knights scored 6 to get the important Game 1 win. That's one where I'm already questioning my Oilers play for that series. A concern that I had during the Kings series was that Skinner was out of his depth. Not a knock on the guy he's just very early in his career and doesn't have the experience.
Either way, bit of a concern there for Oilers backers and fans.
Two games tonight, then a lone game on Friday and Saturday, before all day hockey on Sunday.
Here's our thoughts as we jump back to betting tips for each game:
Leafs vs Panthers Game 2 Betting Tips:
Scott: Well the Leafs weren't ready for or expecting the speed the Panthers have.
The Panthers have 2 good lines and the Leafs are going to have to find a way to get their top 2 lines away from them and having home ice gives you that chance. Tkachuk and Bennett are a pain to play against and Barkov, Verhaeghe and Duclair are skilled. And on defense Montour has been incredible during these playoffs.
They also need to get some past Bobrovsky who made 34 saves and was a huge part of that win.
I want to take the Leafs here but it looks like it would need to be regulation and if they are to win they need to come out swinging and regain some confidence. Matthews, Marner, Nylander, Tavares and O'Reilly need to get it going.
Leafs in regulation
Graeme: A disappointing result from the Leafs in Game 1 but I don't think they played too badly. Bobrovsky saved the Panthers bacon a few times, and the Leafs went off the ice with a 5.8 xGF according to Moneypuck. Feels like they had a 10 xGF just in those last 4 minutes! Natural Stat Trick has them at 4.46.
Either way, I wouldn't be too concerned if I was a Leafs fan. I've seen a few narratives that the Leafs didn't show up etc but I disagree with that completely. This wasn't like some of those games in Tampa. Bob was in spectacular fashion.
Goaltending can save you at times for sure, but it depends on the offense you're going against. We also saw a big reactiong game from the Leafs in Game 2 of the series, and I think we'll see that tonight.
Leafs in Regulation
Ontario: 1.90 Odds at Bet365 (Americans: We recommend http://www.bovada.lv
Canada: 1.90 Odds at Bet365 (Americans: We recommend http://www.bovada.lv
USA: -115 Odds at BetOnline.
Everyone Else: 1.90 Odds at Bet365 (Americans: We recommend http://www.bovada.lv
(Odds correct as of 2023/05/04 7:12:08 AM EST but are subject to change.)
Stars vs Kraken Game 2 Betting Tips:
Scott: So the Kraken are more than just a pesky team, they are a good one too.
The Stars got 4 goals from Pavelski yet the Kraken still came away 5-4 winners in overtime. They outshot the Stars 44-35. The Stars were up 2-1 just over halfway through the 1st when the Kraken scored 3 times in less than a minute to take a 4-2 after the 1st.
The Kraken got goals from five different players after 15 different players scored in the first round. They are a team that runs 4 lines which makes it hard to try and shut down any one line.
I want to take the Stars here to bounce back and tie the series but after game 1 I feel better just skipping this game and seeing how the Stars respond. And they owe it to Pavelski who had a monster game yet they still lost.
No Bet
Graeme: Kraken got the nice win. I love hockey for shit like that. Crazy 5 goal 1st period, nothing in the 2nd. Why not.
I've never looked it up, but I'm convinced that if you just bet the underdog in any Kraken game this season – whether it be them or their opponent, you'd be up a decent amount of money. One of those teams where you just can't tell.
This one I am going to back the Stars to bounce back. I'm going to be straight up saying mathematically, I don't believe this is an +EV bet. I don't look at this bet and think sweet – we have some nice value here.
But hey it's the playoffs and I like to try to have something going every game. Seeing the Stars offense continue to do the job was nice, and I think now they've got adjusted to the Kraken offense we'll see the defense perform better too.
Stars in Regulation
Ontario: 1.86 Odds at Bet365 (Americans: We recommend http://www.bovada.lv
Canada: 1.86 Odds at Bet365 (Americans: We recommend http://www.bovada.lv
USA: -130 Odds at Bovada
Everyone Else: 1.86 Odds at Bet365 (Americans: We recommend http://www.bovada.lv
(Odds correct as of 2023/05/04 7:12:08 AM EST but are subject to change.)
Follow @BetNHL
BetNHL.ca » Tonights Tips »