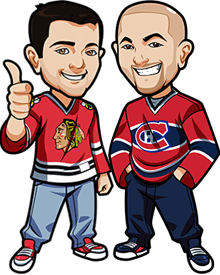 Written by Graeme & Scott on Friday, May 5th, 2017
Follow @BetNHL
The New York Rangers made it two dominant wins in a row over the Ottawa Senators, to tie the series up at 2 apiece. Both teams now have won at home.
It makes for a very interesting Game 5 between the teams. The Senators have the home ice advantage however the Rangers have the momentum.
Man – things like that make us love hockey so much. Going to be a real fascinating game.
We have the polar opposite tonight as the Oilers take on the Ducks. Also tied 2-2 however both teams racked up road victories.
Also the Predators look to put the Blues out of their misery with a win tonight. The Blues have played 4 playoff games at home and won 2 lost 2.
Should be an interesting set of games.
Here's our thoughts:
Predators vs Blues Game 5 Betting Tips:
Graeme: I've been singing the praises of the Predators for the last couple of games now. They're underdogs here and I've got to take them.
I felt the only game they lost in the series was due to referee decisions. Not as blatant or incorrect as the Oilers/Ducks game, but it just felt the refs had an agenda to keep the game close and they did that.
This is obviously "must win" for the Blues tonight but I don't know if they have what it takes. I really want to take the Preds in regulation but I'm a bit chicken.
Predators to win incl OT/SO
Canada: 1.98 Odds at 888 Sports.
USA: Best Odds at Bovada.
Everyone Else: 1.98 Odds at 888 Sports.
Scott: The Preds have a chance to move onto the conference finals for the first time in their team history.
The Blues looked great in game 4 but it again was Rinne who won the game.  He has been amazing in the playoffs going 7-1 with a 1.33 GAA.  Ellis has been great too gaining another point to extend his point streak to 7 games.
With the Blues at home and the way they played the last time out you can't count them out just yet.
Game 1 hit 7 goals but Game 2 had 5, game 3 had 4 and game 4 had 3.  I see the low scoring trend continuing in this game.
Under 5 (5 goals = push)
Canada: 1.80 Odds at Sports Interaction + $20 Free Money Line Bet.
USA: Best Odds at Bovada.
Everyone Else: 1.80 Odds at Bet365 (Americans: We recommend http://www.bovada.lv.
Oilers vs Ducks Game 5 Betting Tips:
Scott: This series is tied 2-2 with all 4 of the games being won by the visiting team.
This is a tricky game to call but I'm sure it will be great.   The way the games have been going you would think that it's the Oilers turn to win.  But I can't get behind it.   This is the first time in the playoffs that they have lost twice in a row and I'm not sure how they will respond.
Unlike the other series happening tonight, this series has had plenty of goals. The totals have been 8, 3, 9 and 7.  I'm going with another high scoring game in this one.
Over 5.5
Graeme: Such a crazy series thus far.
Oilers are going to come out motivated after the referee issues in the last game. Ducks will be at home and want to continue the momentum.
I'm going to go with Over 5.5 Goals in this one. I feel almost everything points to that. The only concern I have is if Talbot stands on his head like he did in Game 2. It's very possible.
I can't see a similar performance from Gibson so I'm not concerned there. Oilers have put an average of 3 past him every game. And while he had some decent games against the Flames it was never like any game was purely due to him.
Talbots my only concern but the sloppy defensive play of the Oilers, how offensive orientated I think they'll be tonight etc cancels that out for me.
Canada: 2.08 Odds at 888 Sports.
USA: Best Odds at Bovada.
Everyone Else: 2.08 Odds at 888 Sports.
Follow @BetNHL
BetNHL.ca » Tonights Tips »