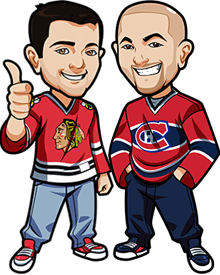 Written by Graeme & Scott on Saturday, May 5th, 2018
Follow @BetNHL
The Vegas Knights had a hard fought battle against the San Jose Sharks last night but came away 5-3 winners in a great game. This has been a very fun series and should be an interesting Game 6. The Knights have won in San Jose before so it should be a good battle.
Tampa and Boston also had a great game and this was a 7 goal thriller won in overtime. Unfortunately the excitement of the game is taken away by that freak Marchand who licked Ryan Callahan. Very surprising that the refs haven't penalized him for that and he just keeps pushing it. We don't even want to know what he's going to do in the next game.
Tonight we've got two big games with Washington and Nashville returning home and both series tied 2-2.
Should be some great action today. Let's get to it:
Penguins vs Capitals Game 5 Betting Tips:
Scott: This series has been a good one.  Pens won game 1, Caps won 2 and 3 and the Pens tied the series with a win in game 4.
Tough to call a winner for me.  I was thinking of going with the over but only one game has done that.  I think I'll avoid a tip for this game and just enjoy what's sure to be another good game.
No Tip 
Graeme: Yeah tips wise at this pont in time it's really tough. Any value to be had is razor thin if there is any and this and the other series are unpredictable.
The odds have both teams as practically even so that makes it very tricky. The Penguins are slight underdogs and overall I feel they've been the better team this series. I'm fine with a small bet of 0.5u on Penguins to win incl OT.
Jets vs Predators Game 5 Betting Tips:
Scott: The Preds picked up a huge win in game 4 and regained home ice advantage.  It's a best of three series now with 2 games left in Nashville.
With the insane Nashville fans behind them, I expect the Preds to come out and win this game.  If they lose this the series goes back to Winnipeg where the Jets have their own lunatic fans waiting to cheer them on.  I'll take Preds but only for a half unit
Predators in regulation – 0.5
Graeme: This is another very tight series and I think there is slight value on the Winnipeg Jets.
They've proven they can win in Nashville and Game 2 in Nashville was an insanely close one that went to double OT. They came out HOT for Game 1 and wanting to take away that home ice advantage and I think there's enough of a possibility that they do it again.
I'm going to go with a small play of 0.5u on Jets incl OT. When I go back and look at Game 1 & 2 in Nashville, I feel this line has value.
Follow @BetNHL
BetNHL.ca » Tonights Tips »