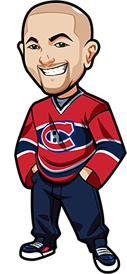 Written by Graeme on Friday, May 5th, 2023
Follow @BetNHL
Well it isn't the start the Toronto Maple Leafs fans wanted, as they have went 2-0 down at home.
People can talk about being goalied, or just pure bad luck. And I mean that is true – Bobrovsky pulled off some big saves again, and Leafs have hit the post so many times.
But man – you're paying this Top 6 how much? You need to be scoring more than two goals per game.
The Stars won last night in very dominant fashion. I must admit I did fall asleep during that first period though where it felt like nothing was happening. Stars absolutely dominated them though in that 2nd period and got the deserved victory.
We have just the lone game tonight. Let's get to it:
Hurricanes vs Devils Game 2 Betting Tips:
Scott: The Hurricanes were ready for whatever the Devils were going to throw at them scoring the 1st 2 goals of the game and won 5-1. The extra time off gave the Canes the extra rest they needed.
The Canes played so strong defensively in the 1st that the Devils couldn't establish any sort of game plan limiting them to only 1 shot.
Schmid again got pulled after allowing 3 goals.
The Devils have been a strong road team but it sure didn't help them here. With a game against them under their belt they should have a better showing in game 2 or face going down 2-0 heading home.
Devils win incl OT.
Ontario: 2.01 Odds at Sports Interaction (SIA) - Non-Ontario bet $10 get $200
Canada: 2.04 Odds at BetOnline.
USA: +104 Odds at Bet365 (Americans: We recommend http://www.bovada.lv1
Everyone Else: 2.04 Odds at Bet365 (Americans: We recommend http://www.bovada.lv
(Odds correct as of 2023/05/05 7:13:29 AM EST but are subject to change.)
Graeme: I mean – you can just look back at what I wrote in the series prediction thread. I was stunned the Hurricanes were dogs in this series. Then they go out and do what they did in Game 1. Not a surprise.
Not that I am counting the Devils out or anything. We literally saw this exact scenario in the last series, and they came back and won.
So right away just based on the result and my earlier thoughts, I'm thinking about taking the Canes again. But let's do a bit of a deeper dive into the metrics.
In 5 vs 5, the Devils had the better xG and HDCF. That's very slightly tainted by the fact that they were chasing. But the Canes managed to score most goals in that situation. Excellent conversion.
When we look at the overall metrics, it's a whole different story. Although 5v5 SVA is still a bit tighter.
Anyway yeah. I'm really seeing nothing to put me off the Canes. The only factor is the Devils goalie situation. They settled down a tad when Schmid got pulled and that could affect things tonight. Then there's of course complacency that can settle in etc.
And who knows – maybe we're going to see another Devils/Rangers series where it plays to both extremes.
But either way I'm good to back Canes to win incl OT tonight. I don't mind a regulation bet either, but the sportsbooks are still giving the Devils too much respect IMO, so happy to go with the OT bet.
Ontario: 1.86 Odds at Bet365 (Americans: We recommend http://www.bovada.lv
Canada: 1.86 Odds at Bet365 (Americans: We recommend http://www.bovada.lv
USA: -115 Odds at BetOnline.
Everyone Else: 1.86 Odds at Bet365 (Americans: We recommend http://www.bovada.lv
(Odds correct as of 2023/05/05 7:13:29 AM EST but are subject to change.)
Follow @BetNHL
BetNHL.ca » Tonights Tips »