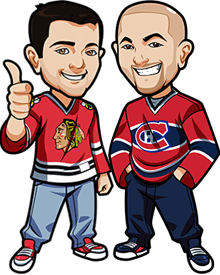 Written by Graeme & Scott on Saturday, May 6th, 2017
Follow @BetNHL
It was a good betting night as we won our unified pick of the Over 5.5 in the Ducks/Oilers game.
And one nice thing is that we won't be hearing Oilers fans complain about the referee decisions in Game 4 anymore…because they'll be too busy complaining about the call in Game 5!
Holy – what a bad call that was. Nurse clearly was the reason that Kesler got in there but he's meant to actually try and avoid the contact then leave the crease. Instead he decided to set up camp and have a thumb war with Talbot.
It was bad that the Oilers let themselves be in that position to begin with but after the last two games if the Oilers don't progress to the next round, it's 100% down to bad officiating and that just plain sucks.
Oh finally a big hearty LOL at all those Ducks fans who left early to beat the traffic. Hope getting to bed early was worth missing out on such a rare moment to experience!
The Blues got an important win in the series against the Preds. Scott called the under nicely on that one. He hates calling under on those 5 lines so it was nice he racked that one up.
We move onto today. We have two games as the New York Rangers take on the Ottawa Senators in the early game at 3pm EST then the Penguins take on the Capitals.
Rangers vs Senators Game 5 Betting Tips:
Graeme: I tipped the Rangers to win the series before it began and the last two games showed why – they're just a better team than the Senators. However the Senators have managed to beat the Rangers twice at home already with some impressive performances and you just can't count them out.
To be honest I was hoping the Senators would be underdogs so I could tip them but it's basically a pickem. Which feels about right as I'm conflcited on how the game will go. I mean I love the Rangers momentum at the moment but I love also what the Senators have been doing.
Last time out I bet Brassard over 2.5 shots and I wanted to do that again this time as it was an easy win – but they don't bloody offer it this time.
Looking at the goalie props. When Sens were at home against the Bruins Rask had to make 32, 27 and 29 saves. Those were tighter games too. Lundqvist so far in the two in Ottawa it was 43 and 34. Of course OT can taint that a bit.
However I see this being a more offensive game. The Sens will REALLY want to get the win here after their disasters on the road while the Rangers will have the momentum. So I do like there to be a lot of shots.
I'll take Lundqvist over 28.5 saves.
And as lame as it sounds – man I love doing player props. It's a whole new set of statistics to really focus on.
For Americans you can bet that at Bovada. Canadians at Bovada.
Penguins vs Capitals Game 5 Betting Tips:
Graeme: I've went 2-1 this series on my individual bets so far and the loss was when I tipped the Penguins in the game where Crosby got injured. I also have my series prediction of the Penguins to win at nice odds so looking forward to that coming in.
This one is in Washington where the Penguins can wrap it up. Capitals lost the first two at home. They also lost 1 out of 3 at home to the Leafs.
I actually went into the playoffs rooting for the Capitals. I really hoped it was going to be their year but I've been extremely disappointed by them and it's at the point where I just want them gone.
Like I said for Game 4 – Holtby hasn't been great in the playoffs at all. Pens won here twice before. Now you're giving me the Penguins at 2.50 odds? Hell sounds good to me. I can think of much worse ways to blow a betting unit. Penguins to win incl OT/SO.
Scott: Well the Pens went out and won without Crosby.  You have to think that their win will determine if Crosby is ready to go or if he will take another game off.
The Caps have been a deep team but haven't gotten a goal from their bottom 6.  Ovechkin skated with the 3rd line in practice.  If he stays there that may be the boost they need to get some scoring.
I'm not picking a winner but I like this to have goals as then Caps will need to go all out to avoid getting eliminated.
Over 5 for 1.71 odds at Sports Interaction for Canadians. Americans bet at Bovada. and everyone else 888 Sports.
Follow @BetNHL
BetNHL.ca » Tonights Tips »