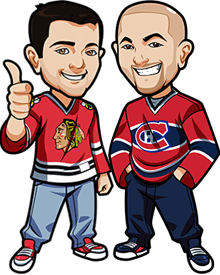 Written by Graeme & Scott on Sunday, May 6th, 2018
Follow @BetNHL
Two excellent, high scoring games last night in the NHL Playoffs and two big victories.
The Washington Capitals pulled off a massive 6-3 victory over the Pittsburgh Penguins with a huge 3rd period where they scored 4 goals. They came from behind in that period and now take the 3-2 lead as they head to Pittsburgh.
The Jets got a massive road victory in a thrilling 2nd period and they won 6-2. They now have to be huge favourites to progress as they head back to Winnipeg.
Today we've got two games and we could see the first teams in the conference finals. At 3pm EST, the Boston Bruins visit Tampa and they need to play the game of their freaking lives to stand a chance. Although all of the Marchand drama is probably not helping their preparation.
The Knights go to San Jose knowing one win is all it takes to get a few days extra rest and make it to the conference finals.
Let's get to it:
Bruins vs Lightning Game 5 Betting Tips:
Graeme: Acceptance. That's the word of the day in Boston in my opinion.
The Bruins were a team I loved during the regular season and I mentioned many times here that they just seemed like a potential cup finalist. I've actually got quite a few futures bets involving them making it far and I backed them to win the series.
But it's time to accept that isn't going to happen.
Their performances have not been playoff calibre. Rask is not stepping up like he needs to. I'm seeing nothing to suggest they areb backable.
The thing is the odds are great too. The average odds for them to win including OT is 2.60. For a team that won 6-2 in Game 1, that seems like a great price.
But despite those odds, I just can't advise backing them. No Bet.
Scott: Wow does Brad Marchand have a way to piss people off.  He has now licked, yep licked, opposing players.  He has always been a player who's a pain in the ass to play against but this seems to be something new.
The Lightning can win the series today after winning the last 3 games.  The Bruins have to find a way to score 5 on 5 which they haven't done since game 2.
All signs point to a Lightning win but I'm more comfortable going with Over. Game 1 had 8 goals,  game 2 had 6,  game 3 had 5 and game 4 had 7.  With their backs against the wall the Bruins should show up for this game.
Over 6 incl OT – 1u
Knights vs Sharks Game 5 Betting Tips:
Scott: The Knights can move on to the Western Conference finals with a win in today's game.  They responded to their 4-0 loss in game 4 with a 5-3 win in game 5.  The Sharks had a great push in the 3rd period scoring 3 straight goals but the Knights held on and added an empty better for the win.
The Sharks at home has me think they will win this game but as we all know with the Knights you can't ever take them for granted as they will give it 110% each and every game.
I'm not sure who wins this game and I'm going to avoid a tip
No Tip 
Graeme: I hate to go no bet again but that's what I'm going to do.
Knights are about 2.20 odds and so I've spent most of the morning trying to convince myself that they're worth backing – but I just can't fully justify it.
I went back and watched Game 4 versus the Kings for example – studying their effort in that game and seeing if it's their game to lose tonight – if they can dictate it. And I'm not sure.
We have 3 closely fought games between the teams and two blowouts on either side.
There's probably miniscule value on the Knights. Honestly the way things are going here and the battles these teams have I'll probably hope for an early goal and then back the other side.
But yeah no bet for me.
Follow @BetNHL
BetNHL.ca » Tonights Tips »