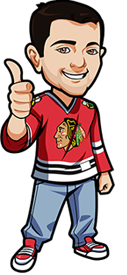 Written by Scott on Wednesday, May 6th, 2020
Follow @BetNHL
Sorry for having tips yesterday. I just wasn't feeling very good or up to it so took a day to rest.
Yesterday was Cinco De Mayo and it fell on Taco Tuesday only to be ruined by a virus called Corona. Wow, just wow.
Still not sure when and if the NHL is going to resume the season. There is some reports that the league has mentioned moving the NHL draft to as early as June 5th. If they do go with the draft that early the league said it would go with the lottery system that the used as recently as 2012. In that system only the bottom 5 teams would have a chance at getting the first overall pick. Teams outside of the bottom 5 can still "win" the lottery but can only move up a maximum of 4 spots in the draft.
The reason for moving the draft to such an early date is that the Cup wouldn't be awarded until at least mid September if the league resumes this summer. That wouldn't leave enough time for the draft and all the other offseason activities that need to be completed before the 2020-2021 season begins. And for Sens fans this must be exciting news. They have their own pick and the Sharks forst round also so they will have 2 of the top 5 picks possibly 2 of the top 3.
Ok for today's tips I'll go back to NHL Simulations. I do find watching these to still be enjoyable but it makes me miss the league so much more.
NHL Sims Betting Tips
This game can be watched at twitch.tv/livehockeysims.
Blue Jackets vs Islanders  
The Jackets were 5th in the Metro Division with 81 points in 70 games. The Islanders were in 6th in the Metro with 80 points in 68 games.
With these teams being so close in the standings and the Isles being only a single point back playing 3 fewer games I like them to win this game. Even better that they are at home
Isles win including OT/SO at Bovada/Bodog
Jets vs Canucks 
The Jets had an up and down season but still found themselves in 4th in the Central and in the 1st wild card position. The Canucks were another team who had good runs followed by bad ones. They were in 4th in the Pacific Division but were in 9th in the playoff race.
Sure the Jets had a huge hole on their blueline this season with Byfuglien not playing this year but they have a great forward group.
I'll take Jets to win including OT/SO at Bovada/Bodog
Follow @BetNHL
BetNHL.ca » Tonights Tips »