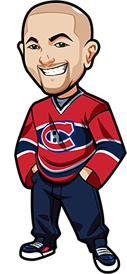 Written by Graeme on Thursday, May 6th, 2021
Follow @BetNHL
Well unfortunately it was another 3rd period collapse and a twice blown lead by the Predators yesterday. It should have been a good, playoff clinching night for them but it was a dull game where they showed no real drive.
Considering the circumstances I think it was a very disappointing performance from the Predators who looked like they couldn't give a toss if they wanted to make the playoffs or not. I mean granted they're pretty much in – but you'd think they would show some sort of drive and want to finish strong.
The story of the night of course was the Capitals vs Rangers game. Fights galore. Just awesome. I hope for the rest of the season we just see people lining up to get into a scrap with Tom Wilson. Props to Brendan Smith – dude took a battering but still stepped up to the plate. Big respect.
Six games today. It'd be pretty easy to just say hey we're calling it off until the end of the season – I know many who are doing that – yet instead I've got 2-3 potential picks for tonight. Let's hope the hockey gods are smiling on us.
Hurricanes vs Blackhawks:
Canes are on an absolute roll at the moment. This is a team I like to see. I believe their last loss in regulation was the Red Wings on April 12th. Very impressive.
Blackhawks have been lively but it hasn't mattered with a lot of struggles recently. Hurricanes look like a team that are really vibing and going into the playoffs with a plan. They already have home ice and are looking to take the Central.
Can't take them in regulation of course. Can we take them on the handicap? When they win in regulation, they have covered the handicap the last 10 games. They seem to be able to get the job done. Playing the same team three times in a row can of course make things weird. The overall history of the two teams in matchups make things a tad concerning.
At this stage of the season I can take it or leave it in terms of bets but I think Hurricanes -1.5 if Reimer not in net is fine. I've looked through the goalie metrics, and unfortunately Reimer concerns me when it comes to the handicap.
I should note Reimer is probable today.
Canada: 1.83 Odds at BetOnline...
USA: -120 Odds at BetOnline...
Everyone Else: 1.83 Odds at BetOnline...
(Odds correct as of 2021/05/06 10:15:22 AM EST but are subject to change.)
Leafs vs Canadiens:
I mean I lean the Leafs to win but not at these odds.
Penguins vs Sabres:
I feel like these two teams always match up when I am writing tips as I feel like I have written about them a billion times.
I think I did the research a few weeks ago analyzing that Penguins at home is always good stuff. They're just a bit erratic at the moment.
The East is actually quite tight at the top and the Penguins seriously need the win. Can they get the job done?
Probably. Reading everything from the Sabres though, team morale is quite high and they seem up for it and finishing the season strong. Over might be a decent play but well you know the drill there.
Islanders vs Devils:
Nothing here. Islanders likely win a tight game.
Bruins vs Rangers:
After last nights Rangers game not sure how they will be here – I'd expect them to be emotionally worn out etc. Bruins stepped off the gas a bit last time out.
Just one of those games that feel like a good spot for the Bruins. Always worry about complacency but this game really should be there for the taking.
Bruins in Regulation
Canada: 1.71 Odds at Bet365 (Americans: We recommend http://www.bovada.lv.
USA: -160 Odds at BetOnline.. (Would not bet this)
Everyone Else: 1.71 Odds at Bet365 (Americans: We recommend http://www.bovada.lv.
(Odds correct as of 2021/05/06 10:15:22 AM EST but are subject to change.)
Oilers vs Canucks:
Would have to be Oilers -1.5. Things are very similar to the Canes/Blackhawks write-up. Oilers covered the handicap in their last 9 regulation wins. Canucks have been a dumpster fire.
Oilers are focused on McDavid getting 100 points. Which actually can be a concern – I remember when the Penguins had Kessel and he was struggling, and it was like they were trying to get him to score by just giving up good opportunities and passing to him. That one falls into my mind as I remember we tipped the Pens in that particular game and it was very frustrating to watch.
Of course difference is McDavid will finish those chances while Kessel couldn't score in a barrel of fannies, to use an old Scottish term.
I mean look – this time of the season is really tough. We see teams who should be showing drive just not showing it at all etc. And I mean if the Oilers go down 2-0 are they going to have enough fight etc? But they really do seem up for it. More importantly based on everything it's hard to back the Canes and not the Oilers.
Oilers -1.5
Canada: 1.90 Odds at BetOnline..
USA: -110 Odds at BetOnline..
Everyone Else: 1.90 Odds at BetOnline..
(Odds correct as of 2021/05/06 10:15:22 AM EST but are subject to change.)
Follow @BetNHL
BetNHL.ca » Tonights Tips »