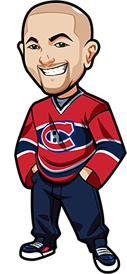 Written by Graeme on Saturday, May 6th, 2023
Follow @BetNHL
A big win for the Carolina Hurricanes as they go 2-0 up in the series.
The New Jersey Devils have now been thumped 5-1 and 6-1. For most teams, this would be a death blow. But considering how that Rangers series went? You have to wonder if it ends up giving them confidence.
Game 3 is going to be real interesting. Bookies have the odds out and the Devils are about 1.76 favourites.
We'll cover that later today. I have a fantasy football draft tonight and it's a new dynasty league, so it's going to be going on way too long. So I'm going to post tomorrows tips later tonight instead, as I've no idea when I will be up tomorrow.
Let's get onto todays game. Saturday. Playoff hockey time. Exactly 1 game. Why not.
Knights vs Oilers Game 2 Betting Tips:
Scott: Just like the Stars did when they got 4 goals from Pavelski and lost, the Oilers had Draisaitl score 4 times and lost 6-4. Draisaitl now has 11 goals already.
The Knights depth won the game for them as 5 different players scored. This was the Oilers first regulation loss since March 11th.
The Oilers need to get some production from players not named Leon. They have the players to score and this series was billed as the Oilers' star power against the Knights' balanced attack and that showed in game 1.
If the Oilers can tie the series before heading back to Edmonton then they will get to play in front of their loyal fans.
Oilers win incl overtime
Ontario: 1.83 Odds at 888 Sports.
Canada: 1.83 Odds at 888 Sports.
USA: -121 Odds at BetOnline.
Everyone Else: 1.83 Odds at 888 Sports.
(Odds correct as of 2023/05/06 7:25:48 AM EST but are subject to change.)
Graeme: I hate to be too reactive, but I must admit after game 1, I was regretting my series prediction on this one.
I just felt watching that game, that I completely glossed over the Oilers goaltending situation, and how I feel about it. My take is that Skinner is just a bit too inexperienced at the moment for the playoffs, and that it'll cost them. I don't know if Campbell can save the day if he gets a chance either. I mean he did step up that one game, but regular season Campbell was a disaster.
3 of the Knights goals were taken from high danger chances.
Oilers are 1.80 favourites here and I can't back them at that. Not until their goaltending shows up. Otherwise, you're hoping that they can outscore the Knights which is 100% possible even if the Knights continue to put up 6.
The over/under of 7 is mental as well.
Honestly, with how my feelings on the series have changed from Game 1, I'm going to pass on this game. No bet for me. I don't want to make any rash decisions based off 1 game.
I had a look at player props but nothing stood out.
Follow @BetNHL
BetNHL.ca » Tonights Tips »