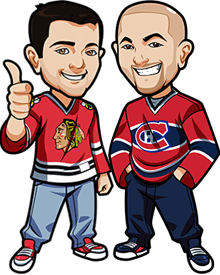 Written by Graeme & Scott on Monday, May 7th, 2018
Follow @BetNHL
Yesterday saw the first two teams go through to the conference finals, as the Tampa Bay Lightning and Vegas Knights both had strong wins to move on to the next round.
Tampa beat Boston 3-1 yesterday with another relatively flat performance from the Bruins. What a disappointment they were in the playoffs after such a great regular season performance.
The Vegas Knights continued their amazing season with a 3-0 victory over the Sharks. Fleury recorded yet another shutout. What an incredible team the Knights are and they are a true testament to hard work.
We have two Game 6s tonight and we could see this round of the playoffs wrapped up as the Pittsburgh Penguins host the Washington Capitals and the Winnipeg Jets host the Nashville Predators.
Both have been good series so far and both games you could see either team winning.
Let's get to it:
Capitals vs Penguins Game 6 Betting Tips:
Scott: The Penguins know what to do in this situation.  Their backs are against the wall which it has been in playoffs past.  This will be the Pens 5th time in an elimination game under coach Mike Sullivan and have won the last 4 heading into tonight.
The Caps have a chance to eliminate their long time rivals so they'll be ready for this game.  Ovechkin should and will be flying tonight as he wants nothing more than to beat Crosby.
I can't pick a winner so instead I'll just enjoy what's sure to be an awesome game.
No Tip
Graeme: I had to do a double take when I saw the odds today and I immediately hopped onto Twitter to make sure there was no injurys to Ovechkin, Kuznetsov or Backstrom.
Capitals have the ability to beat any team at any location in my opinion. We all know their history in the playoffs however they also beat the Jackets 3 times on the road and have already beaten the Penguins once here. They're without Wilson but that didn't affect them as much last game.
Vegas will probably be sitting around laughing after all the money goes on the Caps at these odds and the Pens turn up. But man I am completely fine with 0.5u on Capitals to win incl OT at this price.
Canada: 2.71 Odds at BetOnline..
USA: +165 Odds at Bovada.
Everyone Else: 2.71 Odds at BetOnline..
(Odds correct as of 2018/05/07 9:20:05 AM EST but are subject to change.)
Jets vs Predators Game 6 Betting Tips:
Graeme: A huge win for the Jets in Nashville sees them just won game away from the playoffs. They can wrap it up at home in front of their insane home crowd and that should be nice if they can do that.
Personally I hope they do because I'm rooting for both Jets and Knights so it'd be nice to have a conference final where I'm not too concerned about the winner and can just sit back and enjoy.
For this game? I'd like to back the Preds but I think they might be deflated after that last game and that could also affect the over which I was leaning for.
No Bet.
Scott: Has been an amazing series so far.  The Preds have experience having made the finals last year so I can't count them out just yet.
Has been a high scoring series so far with goal totals of 5, 9, 11, 3 and 8.  The Preds will need to score to avoid being eliminated and the Jets can't allow the Preds another game at home with a chance to push this series to 7 games.  I'll go with the over in this game.
Over 6 incl OT – 1u 
Canada: 2.01 Odds at BetOnline..
USA: -105 Odds at Bovada.
Everyone Else: 2.01 Odds at BetOnline..
(Odds correct as of 2018/05/07 9:20:05 AM EST but are subject to change.)
Follow @BetNHL
BetNHL.ca » Tonights Tips »