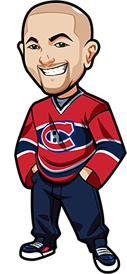 Written by Graeme on Friday, May 7th, 2021
Follow @BetNHL
A 1-2 night.
The Oilers pick is one that in retrospect, I regret. At the time I was just looking at the similarities between Oilers and the Hurricanes. But thinking about it – their focus was less on winning and more on the McDavid points goal. As it is – if it wasn't for that insane opening to the game, things might have been different.
4 goals in 4 shots. Hockey is something else. 0 saves, 0 save percentage. Great job Kosk.
Another one I regret is the Bruins – I should have said hey even though we aren't doing unit sizing, please take a billion units and bet it on them to win in regulation. I had strong expectations for that game and it went exactly as I expected.
7 games tonight let's look through them all. See if anything jumps out.
Lightning vs Stars:
I just can't see the Stars making the playoffs. Feels like they have blown it. I think Tampa are a great, great bet tonight.
I just don't think they can do the business. They can't beat the big teams. It's still mathemetically possible but I think their playoff hopes end here tonight in Tampa.
I just think it'd be irresponsible to back against Dallas tonight, purely based on their circumstances. But I feel confident enough betting Tampa tonight.
Capitals vs Flyers:
Flyers offense has been fairly livelly lately. I expect Caps get the job done. Following on from that Rangers game though – not sure how things will go. I do think we'll see team unity and them sticking strong.
I assume they care about the division so you got that motivation as well.
After that last game – I think it's easy to skip this one. A lot depends on the Caps motivation. I do like them in regulation here too though.
Jackets vs Red Wings:
Here's how the advanced metrics go – better team on the night wins. That's pretty much it. It's been very even and flip floppy. Wings are probably razor thin valuey at 2.25.
Wild vs Ducks:
Expect Wild to get the job done but would have to be handicap and no thanks.
Kings vs Avalanche:
I actually don't hate the Kings here at this price. Just can't justify it though.
Knights vs Blues:
Knights come in stuttering. Likely get the win and look to finish the season strong but with the Blues form lately – no thanks.
Sharks vs Coyotes:
Sharks probably win.
So that's really it. No official bets/tips and not sure there will be until playoffs begin.
I'll be backing both Tampa and Washington in regulation myself. Wings are very small value but I don't think I can back them. The Sharks are probably a team I'll have a flutter on myself.
Can I just go to sleep and wake up on the first day of the playoffs please.
Follow @BetNHL
BetNHL.ca » Tonights Tips »