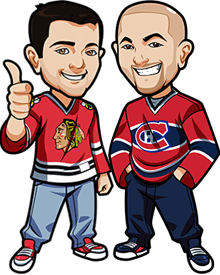 Written by Graeme & Scott on Monday, May 8th, 2017
Follow @BetNHL
It was another winning betting day for us with our individual picks as we went 2-1 with a push.
Graeme went for the big value bet of the Oilers to win in regulation and that paid off with ease as the Oilers absolutely crushed the Ducks.
In the same game, Scott picked Over 5.5 and that was another easy one as the Oilers went over that by themselves.
What a game that was and it makes for an absolutely fascinating Game 7 in Anaheim. Can't believe we have to wait until Wednesday for that one.
The Predators won 3-1 to go through in their series 4-2.
We turn our attention to tonight and the Capitals vs Penguins. The Capitals are down 3-2 and have to go to Pittsburgh to get the win.
Capitals vs Penguins Game 6 Betting Tips:
Graeme: One thing I thought during the last game was "Holy crap the Caps actually look like a playoff team". Granted it was only for about one period but hey better than nothing.
I just haven't been sold on the Caps. I had big hopes for them going in and have been left so disappointed by their performances. Even though they're the best team in the NHL and it's a must-win game and they're at 2.05 odds…..I just can't bring myself to back them. I mean I'm sure Pitt are treating it as must-win as well.
Honestly I'm ready to say no bet tonight but I do like something to cheer for so I'll go with Justin Schultz to get a point. 1.85 odds. He's averaging a point a game at home and has scored in 2 of the Penguins home games against the Caps.
Can bet that at 888 Sports. If you're American Bovada has player props.
Scott: This has been a good series so far.
The Caps won game 5 thanks to three goals in the 3rd.  But they now have to play the Penguins in Pittsburgh where the Pens are 4-1 during the playoffs.
I'm not sure who is going to win this game but I'm sure it's going to be a good one.  The Caps will need to be going all out to avoid being eliminated.  I would love for this series to go 7 games and I think it deserves it.
Evgeny Kuznetsov has been having a great series.  In the 5 games played he has 4 goals and an assist and has gotten a point in all games but one.  They will need him, Ovechkin and the rest of their stars to win this crucial game.  
Kuznetsov to register a point for 1.95 odds at 888 Sports. If you're American Bovada has player props.
Follow @BetNHL
BetNHL.ca » Tonights Tips »