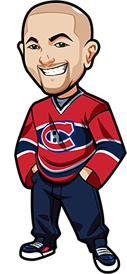 Written by Graeme on Friday, May 8th, 2020
Follow @BetNHL
Hi everyone,
Today I will be covering WWE Money in the Bank 2020. This is the WWE "PPV" taking place this Sunday. You can watch it on the WWE Network and there will probably be a free trial.
Money in the Bank is an annual gimmick show that is usually a lot of fun. Basically a briefcase is hanging above the ring and you need to climb up a ladder to get there. Of course WWE being WWE, there are multiple ladders and prior to someone being able to climb up there you will see people take huge dives off the ladder, getting powerslammed on various ladders and so forth.
It's usually quite a lot of fun.
This year, things are getting CRAZIER though due to everything going on. WWE has been running in empty arenas, and so this year rather than in the ring doing crazy bumps on the ladders – they have to traverse WWE HQ.
Yes – they will be going through a multiple story building to get to the top where the briefcase is located. And they are teasting that someone will get thrown off the roof of the building.
To make it even crazier, the mens and womens money in the bank matches are going to be taking place at the same time.
Basically this is going to be some crazy shit and if you've not watched WWE since the days of Stone Cold – this might be the show for you.
Here are betting tips for it and if you're sitting there thinking "WTF how can you bet on WWE" well here is an article on Where To Bet WWE I wrote that explains it.
WWE Money in the Bank Betting Tips:
Anyone but AJ Styles to win the Mens Money in the Bank at 1.95 odds. After his return on WWE RAW, AJ emerged as the favourite but it won't surprise me if he is the one chucked off the roof following up from his Wrestlemania match with Undertaker. Aleister Black and Otis are both strong contenders here.
Anyone but Shayna to win the Womens Money in the Bank at 2.20 odds. Baszler is the favourite however I think with Becky Lynch being a big deal in the real world right now, she needs someone to go over easily following this. A Nia Jax deal seems natural.
I'm also betting the first cash-in will be done on a TV show as opposed to a PPV for both men and womens briefcases. It's higher odds but I like it a lot as I believe the first show with a crowd back will see that happen.
Smackdown Tag Championships: This is the only other one I have a bet on. I'm doing a very small bet – basically 0.5u – on Lucha House Party winning. 23.00 odds for that one. I honestly feel the tag titles aren't important right now so it's worth the bet.
If you are American, you can bet WWE Money in the Bank at BetOnline.. Everyone outside of America, compare odds at BetOnline. and 888 Sports. Personally I go with 888 Sports. due to the amount of prop bets they have available.
Follow @BetNHL
BetNHL.ca » Tonights Tips »