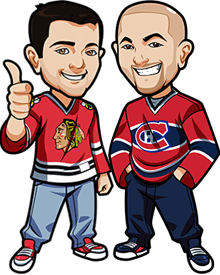 Written by Graeme & Scott on Thursday, May 9th, 2013
Follow @BetNHL
We had a nice winning night with the NHL tips last night. We went 2-1, predicting the Bruins and the Leafs game would go over 5 goals, and that the LA Kings would beat the St Louis Blues.
We also tipped that the Ducks would score first. While they didn't, we added in the additional tip of the Anaheim Ducks winning so if you followed that, then it was a nice 3-1 winning night for you.
So last night made for some tight series. The Rangers beat Washington to tie that series up 2-2. LA snuck out a HUGE win which is going to make for an AMAZING game 6. And the Ducks win sees them up 3-2 in the series. Toronto were incredibly unlucky and lost to Boston 4-3 in overtime in a heart-wrenching moment for them.
Tonight for Thursday May 9th, we've got 3 games and both our teams are playing. The Hawks look to wrap things up against Minnesota, and the Habs……ugh. The Habs look to bring it back to 3-2 in a game that has Graeme nervous beyond belief. While Pittsburgh – man, we really don't know what to say about the Penguins. What an incredible series that has been.
Let's get on with the NHL Betting Tips for May 9th, 2013:
Wild vs Blackhawks Betting Tips: Hawks -1.5
This has been a more competitive series than one would have thought. Minnesota managed to pick up one win, as well as take the Hawks to overtime in Game 1. However then there are the other two games where Chicago have really showed their dominance, including the game on May 7th where it was an incredibly solid performance by the Hawks defense.
Minnesota were desperate on Tuesday, and they'll continue to be tonight. There's nothing the Blackhawks will love more than a desperate team, and they'll calmly but carefully take the Wild apart. I see a relatively easy victory for the Hawks here, and we're getting 2.05 odds at Bet365 (Americans: We recommend http://www.bovada.lv on the Hawks to cover the handicap and win by at least 2.
Habs vs Senators Betting Tips: Goal in First 9:30
There's been goals aplenty in this series, and I see this one starting hot. Habs are just a mess right now with injuries and Graeme doesn't even want to talk about the goalie situation.
This is going to be an incredibly under pressure Habs team who have to start hot from the get go. But the Sens have been cool as ice this series. With the Montreal crowd, this is going to be an amazing opening where we like it filled with penalties and goals. Bet a goal before the first 9:30 at Bet365 (Americans: We recommend http://www.bovada.lv.
Penguins vs Islanders Betting Tips: Penguins -1.5
Many people might be thinking "Overs" in this one, especially after all 4 games however Pittsburgh have a big change; Fleury is out and Vokoun is in.
Vokoun comes into this with a lot of confidence. He rocked against the Islanders during the regular season, and this is going to be a Pittsburgh team brimming with confidence. Fleury has been a bit shaky, and they're going to be a lot more comfortable relying on Vokoun tonight.
With Vokoun in net, Pittsburgh will be comfortable on the offense more, and I like quite a few goals and probably a 3-0 scoreline or similar. Bet the Pens with the -1.5 handicap – 2.3 odds at Bet365 (Americans: We recommend http://www.bovada.lv.
Follow @BetNHL
BetNHL.ca » Tonights Tips »