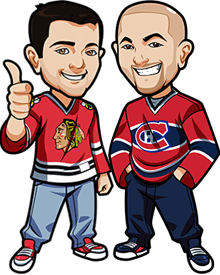 Written by Graeme & Scott on Friday, May 4th, 2018
Follow @BetNHL
Two low scoring Game 4s last night, as the Penguins beat the Capitals 3-1 and the Predators beat the Jets 2-1. Both games tied the series and continued a bizarre trend which has saw All 11 Game 4s Go Under in the NHL playoffs thus far.
It was a good result for the Penguins and for their defense to step up. Even though Wilson is missing the Capitals offense is still electric so that will be a big win for them as they head to Washington for Game 5.
The Preds got an absolutely humongous win in in Winnipeg and proving they can beat the Jets there will be big for them going forward. It was a fantastic performance by the Preds and the type of great team performance they needed. Rinne bounced back strong.
Tonight it's May 4th, and we have a Game 4 with the Bruins/Lightning and a Game 5 with the Sharks/Knights.
Lightning vs Bruins Game 4 Betting Tips:
Scott: The Lightning lost home ice advantage in game one but grabbed it back by winning the next two.  They now have a chance to push the Bruins to the edge and a 3-1 series lead in this game.
The Bruins have been outshot in the series and coach Cassidy mentioned maybe changing his lines up to provide more scoring. 
The Bruins are a strong team and can't afford going down 3-1 against a stacked Lightning team with the series have 2 more games in Tampa after tonight.
I like the Bruins to win but I can't find any decent odds above 1.70 for a win including overtime.  So I'll avoid a tip
No Tip 
Graeme: At this point in the playoffs, providing betting tips can be quite difficult. It's very easy to second guess yourself and there's just not as much to really analyze or look at.
The Bruins were a team I liked to back at home but their piss poor performance last time out puts that off the table. I'm always a fan of backing trends so I'm going to go with Lightning/Bruins Under 6 Goals for 1u. I mean hell why not – it seems like a time where teams are tightening up and really valuing the lead and wanting to hold onto it. And if I'm wrong, I hope I'm wrong due to both teams going off in a big high scoring game. Nothing worse than an under bet losing due to a lopsided victory.
Sharks vs Knights Game 5 Betting Tips:
Scott:  It's now a best of 3 series.  After getting their ass kicked 7-0 in game 1 the Sharks have stuck to their game plan and have evened the series at 2 games apiece.
For the Knights though 2 of the next 3 are in Vegas where they are a strong team.  The Sharks will need to continue to dump and chase allowing the defense time to set up instead of allowing the Knights to use their speed.
The Knights know they can't afford to lose this game on home ice with the next back in San Jose.  I like them to come away victorious in this game but am not confident enough to take them in regulation.  But like the Bruins game, I can't find any odds above 1.70.
No Tip
Graeme: After that thumping from the Sharks it's made the nights a bit concerning to bet but then that's always been the case this season – something happens to put you off them and then they come out strong again. I mean hell just think of their goalie injury situation at the beginning of the season and how they prevailed.
They've performed well enough and bounced back often enough that I'm good with Knights to win incl OT.
Follow @BetNHL
BetNHL.ca » Tonights Tips »