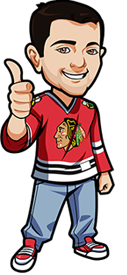 Written by Scott on Saturday, September 24th, 2016
Follow @BetNHL
The Metropolitan Division has the most superstars out of all the Divisions and is also home to the defending Stanley Cup Champs the Penguins. Below we will go over who we think has the best shot to win the divison and then talk about all other other teams with the best odds for each.
The Metropolitan Division has 8 teams.  They are the Carolina Hurricanes, the Columbus Blue Jackets, the New Jersey Devils, the New York Islanders, the New York Rangers, the Philadelphia Flyers, the Pittsburgh Penguins and the Washington Capitals.
Last season the Capitals ran away with not only the Metro but also the Presidents Trophy with 120 points.  Coming in 2nd was the Penguins with 104.  Just goes to show you that it doesn't matter where you finish in the regular season it's the playoffs that count. Behind the Pens was the Rangers with 101 and then the Islanders with 100.
Metropolitan Division Betting Odds
Before we go through each sportsbooks to find the best odds, here are the average odds for each team in the Division.
Pittsburgh Penguins: +180
Washington Capitals: +195
New York Rangers: +600
New York Islanders: +700
Philadelphia Flyers: +1200
Carolina Hurricanes: +1600
New Jersey Devils: +1600
Columbus Blue Jackets: +2000
Again, these are the odds on average and you can find these at most books. If you see the team and Odds you like above then you'll find them at the following books:
USA: Bovada.
Canada: Sports Interaction.
Everyone Else: Bet365. (Not up yet that we can see but they're the best overall book for non-North Americans when it comes to betting the NHL)
For people using Bitcoin the odds aren't out yet for divison winners but they will be soon so check out <a href="https://www.betnhl.ca/go/nitrogen.php">Nitrogen Sports to bet using Bitcoin.
Metropolitan  Division Winners Betting Tips
My Pick to win the Metropolitan Division are the Washington Capitals
With the season they had last year I have a hard time betting against them.  Ovechkin is still the best goal scorer in the league and they now have 2 of the top centers in the league with Backstrom and Kuznetsov.  Holtby was fantastic last year and I don't see him dropping off anytime soon.  They really have no weakness in their line up.  Their only problem is having success in the playoffs
The best odds for the Capitals to win the Metro
Canada: 2.97 Odds at Sports Interaction
USA: +195 Odds at Bovada
Everyone Else: 2.60 Odds at 888 Sports
Metropolitan Division Betting Analysis
Pittsburgh Penguins
Right behind the Caps and also having a great shot at winning the Division is the Penguins.  They are fresh off of winning the Cup.  They have Crosby and Malkin to do the heavy lifting on offense but, as they showed during the playoffs, they have depth and speed with the HBK line.  If their Defense can stay healthy they'll be fine there too.  One question about this team is in net.  Murray was amazing last year but we will have to see how he does in his 2nd year in the league
Best Odds for the Penguins to win the Metropolitan
Canada: 3.40 Odds at 888 Sports
USA: +180 Odds at Bovada
Everyone Else: 3.40 Odds at 888 Sports
New York Islanders
This team was headed in the right direction for the past couple seasons but have seemed to plateau.  They still have Tavares who is a superstar, they added Ladd and Parenteau and have plenty of youngsters ready to take the next step. 
But their goalie situation will hurt them this year.  Halak and Greiss did well for the team but injuries shortened Halak's season and is Greiss a starter?
Still this young team can catch fire and surprise everyone this season.
If you like the  Isles to win the Metro here are their best odds.
Canada: 8.03 Odds at Sports Interaction
USA: +700 Odds at Bovada
Everyone Else: 8.00 Odds at 888 Sports
Philadelphia Flyers
The Flyers have had a decent team on paper for a few years now but for one reason or another they can't seem to find success.
They have a nice mix of vets and youngsters and  brought in Weise and Gordon to fill out the bottom 6.  Schenn keeps getting better and Voracek should have bounce back year.  If Gostisbehere can have a strong 2nd year then he will carry the offense from the back end.  Mason and Neuvirth will fight for starts in goal.
With the Pens tired from their long season and other teams getting weaker, they could surprise us this year.
Best Odds for the Flyers to win the Metropolitan
Canada: 13.00 Odds at Sports Interaction
USA: +1200 Odds at Bovada
Everyone Else: 12.50 Odds at 888 Sports
New York Rangers
This team is starting to show signs of age.  Nash seems to be past his prime, Lundqvist is 34 and their defense is handcuffed by large contracts.
The did get Jimmy Vesey and Mika Zibanejad so they're addressing their aging core but unless Vesey quickly turns into a superstar I don't see them jumping to the top of the Division standings
Best Odds for the Rangers to win the Division
Canada: 7.01 Odds at Sports Interaction
USA: +600 Odds at Bovada
Everyone Else: 7.00 Odds at 888 Sports
Columbus Blue Jackets
The Jackets are a team that has the potential to surprise the league this year. They're a young team with plenty of skilled young players throughout their lineup.
A full year from Seth Jones will help this team on D as will the continued improvement of Murray and Savard.  If Bobrovsky can stay healthy then this team will have an bounce back year this season.
Here are the Best Odds for the Jackets to win the Metro
Canada: 21.00 Odds at 888 Sports
USA: +2000 Odds at Bovada
Everyone Else: 21.00 Odds at 888 Sports
Carolina Hurricanes
This team will have a rough year.  They no longer have Eric Stall and have a past his prime Cam Ward. 
A rebuild is needed for them.  They did bring in Teravainen who wore out his welcome in Chicago and have Eddie Lack who is a capable replacement for Cam Ward.  One position of strength for them is on D where they have plenty of young players looking to take a step forward.
Hurricanes best odds to win the Metropolitan
Canada: 17.00 Odds at Sports Interaction
USA: +1600 Odds at Bovada
Everyone Else: 16.00 Odds at 888 Sports
New Jersey Devils
Not sure what to make of the Devils this year.  They made a huge splash in the off season trading away Adam Larrson for Taylor Hall.  Hall seems motivated to prove the Oilers wrong for trading him.  A change of scenery could push Hall to the top of the scoring charts.
But he won't be enough to carry this team.  Their defense is full of holes and Schneider is in for a long season
If you think I'm wrong then here are the Best Odds for the Devils to win their Division
Canada: 18.00 Odds at 888 Sports
USA: +1600 Odds at Bovada
Everyone Else: 18.00 Odds at 888 Sports
Follow @BetNHL
BetNHL.ca » Tonights Tips » Metropolitan Division Winners 2016 Betting Tips & Predictions