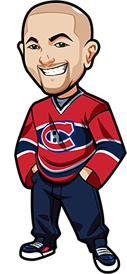 Written by Graeme on Monday, October 14th, 2013
Follow @BetNHL
2-1 yesterday, although wow – it certainly didn't look like a winning night after the first 2 games of the day.
The Florida Panthers, fresh off a huge victory over the Pittsburgh Penguins, succumbed to the LA Kings at home in a 3-0 thrashing. Scrivens did well when called upon, but Florida just looked horrible out there and thoroughly deserved to lose.
The Grand Salami of Under 21.5 looked bust after an 8 goal thriller between Phoenix and Carolina. Thankfully the rest of the games all went Under 5.5 goals to lock up the win there. And our "Goal Before 9:30" bet in the Senators/Ducks game took a whopping 27 seconds to pay off. I was at Thanksgiving with some Ottawa fans last night, and they were none to pleased at me cheering like crazy over that goal.
That was karma for telling me the Habs suck.
Alright, after the break let's get on with the NHL Betting Tips for Monday, October 14th 2013 then I'm off for ANOTHER Thanksgiving Dinner. First an all-inclusive resort then multiple Thanksgiving dinners. Next time I head to a Habs game I'm going to need to buy TWO seats – one for each cheek.
Grand Salami: Over 16.5
Oilers vs Capitals could end up putting this game over all by themselves based on some recent Edmonton games. Detroits offense is starting to heat up while Boston can always unlock a defense. With the return of Pominville to Buffalo we're hoping that is enough to inspire them and bring out the goals. Parise is also running hot at the moment, and Wild should be good for 3 goals in this game. Hopefully Buffalo can keep pace.
The odds on this one are solid value at 1.95. Bet the Grand Salami over 16.5 at http://www.carbonsports.ag.
Oilers vs Capital: Goal Before 9:30
The odds on this one are razor thin at 1.68, but we feel it just represents enough value for the bet. There's been a goal before 9:30 in EVERY game these teams have played this season. Why would you bet against that at this stage?
Bet that at http://www.carbonsports.ag.
Wings vs Bruins: Over 5
Like we said above – Detroits offense is starting to get going. The first game these teams played was 4-1 to the Bruins – but the Red Wings offense was non-existent. With them starting to get together we like to see them be more competitive in this game.
Bet the Over 5 goals at Bovada for Americans and http://www.Bet365.com for everyone else. for 1.83 odds.
Sorry for short write-ups; rushing out here to watch Cloudy With A Chance of Meatballs 2 before hosting a Thanksgiving dinner. Thankfully the kids are back to school tomorrow and I get back in a nice routine!
Follow @BetNHL
BetNHL.ca » Tonights Tips »