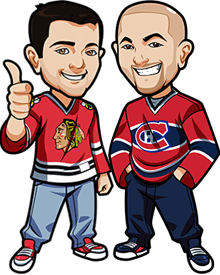 Written by Graeme & Scott on Tuesday, May 14th, 2013
Follow @BetNHL
Sorry about the lateness in todays tips. Here in Kingston we were hit by massive floods due to all the tears from Leafs fans! Seriously – what a game that was. Unfortunately we had a bad night with the bets – the most frustrating one obviously being the Leafs winning at 2.55 odds. Looking back at that game it's a bet we'd make every time.
Before we get onto Round 2 NHL Betting Tips, let's see how we did with our betting tips in round 1.
In round 1 of the NHL Playoffs these were our betting tips:
(Win) Kings to win series: +0.8 units
(Win) Red Wings to win series: +1.15 units
(Win) Senators to win series: +1.4 units
(Loss) Caps to win: -1 units.
(Loss) Long Shot 6.5 odds: Blackhawks 4-0: -1 units.
So if you bet all 5 you'd have +1.35 units of profit, and we were extremely unlucky as the Caps really didn't get the rub of the green, and Hawks lost just one. Could've really been a sick, sick round!
With a whole new set of game series starting, today we're going to skip the individual match bets and instead provide NHL betting tips for each series. We have 4 NHL game series to analyze. The Ottawa Senators take on the Pittsburgh Penguins tonight, and the San Jose Sharks also clash tonight against the LA Kings. Tomorrow sees the beginning of the Detroit Red Wings vs Chicago Blackhawks series, as well as the beginning of the New York Rangers vs Boston Bruins series.
Let's get to it.
Double Bet: Chicago Blackhawks & Pittsburgh Penguins To Win
The single odds on both these teams winning their series are too low. The Penguins are just 1.33 and the Blackhawks 1.32 odds to win the series.
So we are recommending a double bet on both these teams to win the series. This means you combine the bets together, and you only win if both teams win their series.
Do we really have to throw in analysis on this one? We tipped a Blackhawks vs Penguins final at +3300 odds all the way back at the beginning of the season, and despite the Islanders causing a few hiccups we see no reason to change our minds.
The best odds for this one are at Bet365 (Americans: We recommend http://www.bovada.lv and how you place a double bet is very simple:
Log In/Register an account at Bet365 (Americans: We recommend http://www.bovada.lv
Go to their hockey section, and click first Penguins to Win Series and then Blackhawks to Win Series which will add both to your bet slip on the right hand side.
You may have to click "Multiple Bet Options" or similar. There you should see the doubles betting option and then place your stake on that.
Current best odds are 1.76 at Bet365 (Americans: We recommend http://www.bovada.lv.
Rangers vs Bruins Series: Rangers to Win
On one hand, the Rangers are lucky to be here. If Ovechkin had a pulse, things might be different. However on the other hand – Rangers kept it tight throughout the whole series, and won all 3 at home. All games in Washington bar Game 1 were 1 goal deciders, then there was Game 7 where the Rangers just wiped the floor with the Capitals.
And while the Rangers were lucky – no-one is luckier than the Boston Bruins who are only here thanks to the Toronto Maple Leafs….well, being the Toronto Maple Leafs. Boston were quite poor at home, which is good for the Rangers.
We like Rangers to win possibly all of their home games, and then at least one in Boston and to pick up the win in this series. Current odds are 2.00 for Rangers to win the series at Bet365 (Americans: We recommend http://www.bovada.lv which makes it that much better.
Sharks vs Kings Series: Over 5.5 Games
This is a special bet available at BetOnline.. You can bet that the series will go to at least 6 games at 1.6 odds.
To place that bet:
Register at 5Dimes then log in.
Click "Props" under the Hockey section and submit.
Scroll down to the Sharks vs Kings section.
It's on the right hand side and down a bit – you'll see o5 1/2 etc there.
This series – we talked about it all morning. It's just too close to call. Every regular season game between the two was tight and we can't see it being finished early by either team. Betting a Game 7 is too risky however – even though the odds are a bit short, betting Over 5.5 still has great value.
Follow @BetNHL
BetNHL.ca » Tonights Tips »