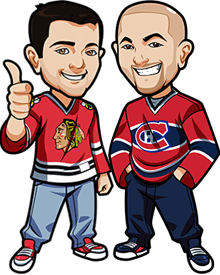 Written by Graeme & Scott on Monday, May 11th, 2015
Follow @BetNHL
Bovada has a list of betting props related to the upcoming 2015 NHL Entry Draft.
They have a bunch of different props and below we'll cover a couple of them.
They cover everything from positions drafted & leagues drafted from to trades and fun props like how many teams will thank the host city. For the complete list be sure to head to Bovada.
If you don't have an account there yet – it's highly recommended. They have free bets, live betting, mobile betting, and usually have the most NHL betting props. So sign up at Bovada now.
How many Players from the OHL will be drafted in the first round: Over/Under – 6.5
Going to go with Over 6.5 players drafted from the OHL in the first round.
The OHL has always been a highly drafted from league. And this year should be no different. With McDavid, Strome, Crouse, Zacha and Marner all expected to be taken in the first round, we only need 2 more and this goes Over. Travis Konecny will be taken somewhere between 10 -15 so we need one more to be taken in the first round. There are a couple other players on the bubble who could go late in round one or early round two. But the OHL has a track record of producing great players and teams picking later on will look to them for the same.
How many trades on the first day of the draft: Over/Under – 5.5
This is a good prop. You have to think about all the teams that had moves on the table at the trade deadline but for one reason or another they were unable to complete the deal. If both teams are still interested, then today is the day to make that deal happen. The Leafs had two, or more depending on where you read about it, apparently that fell through. So will there be 5 or more? I think there will be. I think there will be less than 10 but 5.5 is an easy pick to say Over for.
Over 5.5 Trades on day one of the Draft
How many players from the CHL (OHL, QMJHL & WHL) will be drafted in the first round: Over/Under – 20.5
There is a pile of players from the CHL that will be drafted into the first round. But there is also a bunch of players from other leagues expected to go also. The question is: Will There be more or less than 10 drafted in the first round from leagues other than the CHL.
Under 20.5 is the pick for this prop. With the KHL expected to have a couple and the US-NTDP expected to have a handful , a couple in the top 5, as well as a few from the Swedish leagues. I feel this is a safe pick.
Make this bet over at Bovada
How many forwards in the first round: Over/Under – 20
This draft is rich in forwards. With the first two being Forwards and about 8 of the first 10, we just need 12 of the remaining 20 to be a center or winger.
Have done a lot of looking and reading and this is going to be close. And as always at any sports draft, teams tend to go of the board with their picks trying to find the hidden gem.
But with defenseman tending to take longer to develop into NHLers, defenseman always seem like a safer pick for later rounds.
Over 20 forwards drafted in the first round is my pick for the betting prop over at Bovada
Follow @BetNHL
BetNHL.ca » Tonights Tips »