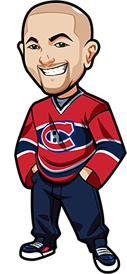 Written by Graeme on Tuesday, September 25th, 2018
Follow @BetNHL
Just over a week to go until the 2018/2019 NHL season kicks off!
The regular season begins on Wednesday, October 3rd with the Montreal Canadiens visiting Toronto to take on the Maple Leafs and we'll get to see Tavares in action.
As we do every season – prior to the new season we'll be doing divisional betting tips. We've said it before but please take these with a grain of salt – these are more just to get us geared up for the season than anything else and give us an excuse to go through and look at every team and get prepared.
Placing bets at this point of the season is silly – unless it's a huge underdog. We've got a pretty good record with these but when it comes to betting we also do just casual amounts – you never know when that huge injury is going to disrupt a team and it's not worth betting big on these futures.
If you want to bet these futures we advise:
Canada: Sports Interaction
USA: Bovada
Everyone Else: Bet365 (Americans: We recommend http://www.bovada.lv
I'll start things off with the Atlantic Division. Let's look at the average odds first:
NHL 2018/2019 Atlantic Division Betting Odds:
Toronto Maple Leafs: 2.60
Tampa Bay Lightning: 2.80
Boston Bruins: 2.80
Florida Panthers: 17.00
Buffalo Sabres: 31.00
Montreal Canadiens: 51.00
Detroit Red Wings: 67.00
Ottawa Senators: 67.00
You can bet these at:
Canada: Sports Interaction
USA: Bovada
Everyone Else: Bet365 (Americans: We recommend http://www.bovada.lv
Atlantic Division Winners Betting Tips & Analysis:
Toronto Maple Leafs: I've been to Toronto a few times over this Summer and honestly one of my favourite things is talking to random Leafs fans about the upcoming season.
Yeah I'm a Habs fan and all but man – there's something so cool about talking to Leafs fans at the moment. They're so excited, so full of optimism. Especially the long suffering ones.
Sure they have their issues – defense still feels like an issue. However offensively they are absolutely ridiculous with three stacked lines. I mean Kadri is going to be on the freaking third line. That's insane.
I do wonder just how their defense will be – I think a lot of people are going a bit overboard and that they shouldn't perform too bad. We'll see. However I do think we'll see some inconsistency, and I'm not going to back them to win the division.
Tampa Bay Lightning: Tampa are a very consistent team and looking at their salary cap – this is the year they gotta go for it. They haven't made any major changes however this is one quality team all the way through. Kucherov just gets better and better and overall I feel Tampa are the best team in the Atlantic. Offensively and defensively they are incredible solid, and I think over the course of the season, Tampa are going to be one of the best performers. They do have complacency issues but I think they've got what it takes to take the Atlantic. Tampa are my pick to win the Atlantic Division.
You can bet that at:
Canada: Sports Interaction
USA: Bovada
Everyone Else: Bet365 (Americans: We recommend http://www.bovada.lv
Boston Bruins: Honestly I'd go with the Bruins to win IF they could add some more depth up front. Defensively they are obviously fantastic and that's a big factor. I hoped adding Nash last season would help in that but it really didn't. They're relying a lot on the guys from last year continuing their development too and I don't know if they're be able to perform well. This team really needs more offensive depth and I think that will hurt them in the chase for the division.
Florida Panthers: I have a real soft spot for the Panthers after they made us a hell of a lot of money last year with that 25-8-2 run in the last few months of the season. Adding Hoffman is nice too and adds some depth to them. Honestly it's a shame this division is stacked with three teams who could really compete as there's a lot about the Panthers I like.
Last season they would have made the playoffs if not for a piss poor start so you have to hope that's fresh in their minds, and that they come out swinging. While I don't think they have a chance of taking it, if they can tighten up turnovers and if Hoffman slots in well, they've got an outside chance. Smallest of the smallest bets on Panthers to win it.
Buffalo Sabres: Sabres are a real question mark this season. Lot of changes, lot of young guys in there. Botterill seems confident this year and they could be a real dark horse. From what I've seen in pre-season I'm not convinced. I think their top line will do the job but they'll struggle elsewhere. Would be nice to see them compete but I won't be considering backing them to win the division.
Montreal Canadians: LOL no.
Detroit Red Wings: This is a team that is in the middle of a rebuild and winning the division or coming close would be a disaster ha. As it is I think they'll be competitive to a degree and will probably screw up their chances of getting a good draft pick. Very sad news that Zetterberg retired but in terms of the Red Wings long-term future that's good news.
Ottawa Senators: The Senators waved the white flag when they traded Erik Karlsson. This is a team with many, many issues. I had hopes that their dressing room issues would be over with and then they put Zack Smith on waivers and piss off the dressing room hard ha. If you know a Sens fan be sure to give them a hug – they're going to need lots of them this season.
What are your thoughts on the Atlantic? Post your thoughts below! We'll be covering the other divisions each day this week in the countdown to the NHL 2018/2019 season.
Follow @BetNHL
BetNHL.ca » Tonights Tips »