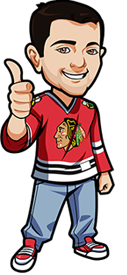 Written by Scott on Wednesday, September 26th, 2018
Follow @BetNHL
It's that time of year again.  Preseason is wrapping up and we move onto our Division Winners Betting Tips.
We do this every season and we have had some success with them.  But there are so many things that can, and will, happen so it's best to not take these that serious and instead use it as a reason to get excited about the upcoming NHL season.
Again do what you feel comfortable doing with   these but lots will change throughout the year; an injury, a trade or even a player coming out of nowhere to win the Hart Trophy like Taylor Hall did last season.  So maybe keep those things in mind when betting on who you think will win the division.
If you are looking to bet futures we recommend these sites:
Canada: Sports Interaction
USA: Bovada
Everyone Else: Bet365 (Americans: We recommend http://www.bovada.lv
Alright for this article we will be going over the always competitive Central Division.
Central Division Betting Odds:
Nashville Predators: 2.50
Winnipeg Jets: 2.60
St. Louis Blues: 9.00
Dallas Stars: 9.00
Minnesota Wild: 10.00
Colorado Avalanche: 17.00
Chicago Blackhawks: 21.00
You can find these odds at:
Canada: Sports Interaction
USA: Bovada
Everyone Else: Bet365 (Americans: We recommend http://www.bovada.lv
Central Division Winners Betting Tips & Analysis
Nashville Predators
This team has as good of a chance as any to win the Central.  Last year they were incredible during the regular season winning the Presidents Trophy.  They have a great group of forwards and the most productive first line in team history.  Their defense, as always, is what  makes this team so successful.  Subban, Josi, Ellis and Ekholm are an amazing top 4.
But they lost to the Winnipeg Jets in the 2nd round.  Rinne is turning 36 and on the last year of his 7 year contract.  During the 2nd round he was pulled 3 times despite winning the Vezina trophy as top goalie during the regular season.
It's the questions surrounding Rinne that I think will hold them back from winning the Central.
Winnipeg Jets
The Jets had an amazing season last year.  They finished in 2nd place in their division and in the league.
They have an awesome group of young and skilled forwards with some productive veterans mixed in too.  Scheifele and Wheeler have incredible chemistry and I think Laine is ready to take over the title of best goal scorer in the league.
Their defense is also solid.  Byfuglien, Trouba and Morrissey hold down the fort for them there.  In goal Hellebuyck earned Vezina trophy consideration.
This team is going to be dangerous this year with all of the talent they have and they youngsters taking a step forward
The Jets are my pick to win the Central  you can bet them at:
Canada: Sports Interaction
USA: Bovada
Everyone Else: Bet365 (Americans: We recommend http://www.bovada.lv

St. Louis Blues
In such a tight Division, the Blues finished with 94 points but were still 5th in the standings.  They were eliminated from the playoffs on the final day of the regular season.  They added a bunch of help at forward grabbing O'Reilly, Bozak, Perron and Maroon.  Those additions will add to an already talented squad with Tarasenko, Schenn, Schwartz and a healthy Fabbri.  But with all the new faces in the dressing room I expect some time for them to get used to each other and that will hold them back to start the year.
Dallas Stars
The Stars looked great for most of the year but an 8 game losing streak killed their playoff chances missing them for the 8th time in the last 10 years. 
They have one of the best top lines in the league with Seguin, Benn and Radulov but after that they get pretty thin.  Spezza is a shell of his former self, Nichushkin has been playing in Russia for a couple year.  Klingberg is great and going to challenge for the Norris throughout his career but after him theres lots of question marks.
Minnesota Wild
The Wild surprised people with their success last season finishing in the 3rd in the central with 101 points.  The Wild added some fourth line help and a bottom pairing defenseman but with the improvements the other teams in the Central made, I feel like the Wild wont have a chance at winning the division.  Suters health is a huge problem for the Wild as if he isn't fully healthy the Wild will be hurting on defense.
Colorado Avalanche
The Avs had a huge bounce back season last year.  In 2016-17 the had the worst record in the league with only 48 points.  Last year the almost doubled that number reaching 95 and the playoffs.  But they did nothing of significance in the off season and that isn't going to cut it in the Central.  MacKinnon is amazing and finished 5th overall in league scoring but theres only so much one person can do.
Chicago Blackhawks
Damn.  As a lifelong Hawks fan it stings to see them ranked so low and reminds me of how things used to be.  But this ranking is deserved.  My friend texted me saying "MAN!! You guys got Kunitz and Ward!"  I replied "This is amazing….. in 2010!"  Kane is still incredibly talented and DeBrincat showed last year that despite his height he can be a player on the NHL.  But age is catching up to the Hawks and they will be in the basement of the Central this year.
Do you agree with my pick of the Jets or do you like someone else better?  Let us know in the comments below.
Follow @BetNHL
BetNHL.ca » Tonights Tips »