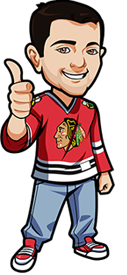 Written by Scott on Friday, September 28th, 2018
Follow @BetNHL
October 3rd is when all of our waiting will finally be over.  That's the Day the 2018/2019 NHL season begins.
You already can bet on who you think will win each division and below we will go over each team and let you know who we think will come away as the winners of their division.
This is a tough bet to place as there is so much that can happen. And when placing your bet on a division winner be cautious and use it more as a reason to get pumped for the season to start and also maybe you'll find a different team to cheer on through the regular season besides your usual team.
If betting on division winners the best sites to do that are:
Canada: Sports Interaction
USA: Bovada
Everyone Else: Bet365 (Americans: We recommend http://www.bovada.lv
We will be covering the Metropolitan Division where the Penguins had their streak of winning  Stanley Cups stopped at 2 by their rivals the Capitals.
Metropolitan Division Betting Odds:
Pittsburgh Penguins: 2.80
Washingston Capitals: 3.40
Philadelphia Flyers: 7.00
Columbus Blue Jackets: 7.00
Carolina Hurricanes: 11.00
New Jersey Devils: 14.00
New York Rangers: 18.00
New York Islanders: 19.00
Canada: Sports Interaction
USA: Bovada
Everyone Else: Bet365 (Americans: We recommend http://www.bovada.lv
Metropolitan Division Winners Betting Tips & Analysis
Pittsburgh Penguins
Well the Penguins didnt win the Cup last year but that's nothing to frown on.  They had won it the two years in a row before that.  And that extra time they had off is going to benefit them.  I mean two years in a row with the shortest offseasons is going to drain them.  Now they have had a chance to properly rest and can now continue to do damage in the Metro.
Down the middle they have two of the best in the league with Crosby and Malkin.  Their wings are also great with Kessel, Guentzel, Hagelin and Hornqvist.  Letang is back to health and is a top of the league defenseman.  They also brought in Jack Johnson for some much needed depth.
It's the added rest and all of their experience that make the Pens to win the Metropolitan my pick.
If you agree then be sure to head to one of the sites below depending on your location.
Canada: Sports Interaction
USA: Bovada
Everyone Else: Bet365 (Americans: We recommend http://www.bovada.lv
Washington Capitals 
I was so glad that Ovechkin finally got the Cup.  I personally love watching the guy play and he is great for the game.
In the offseason the Caps didnt really add anyone that will improve them versus last years team.  In fact they lost their backup goalie Grubauer and faceoff wiz Jay Beagle.
One of the main reasons why I didnt pick them to win the Metro was they seemed to be really, really, enjoying themselves over the summer and they may be a little sluggish to start the season.  But I cant blame them for partying hard.  They won the cup for the first time in Capitals history and also eliminated their longtime rivals, the Penguins.
They will be at the top of the standings but they won't win the division in my opinion.
Philadelphia Flyers
The Flyers are a team that is going to push for 1st but wont have enough in the end to win the division.  But the future of the Flyers looks great.  They have 3 young defensemen that could be really good in Myers, Sanheim and Morin.  Provorov is gonna be a star and Gostisbehere too.  Up front van Riemsdyk was a great addition and his familiarity with the organization will help him transition from the Leafs.
In goal is where the problems show themselves.  Elliott is too inconsistent as is Neuvirth.  Carter Hart is the goalie for the Flyers moving forward but he needs to develop a little more before joining the Flyers
Columbus Blue Jackets
If I wasn't going with the Penguins to win the Metro, than the Blue Jackets would have been my pick.
Dubois, Panarin and Atkinson are are great top line and the have depth up and down the roster.  Defense is where this team shines with Jones and Werenski being arguably the best 1-2 in the league.
The main reason I can't pick the Jackets is the uncertainty with the best forward(Panarin) and their starting goalie(Bobrovsky).  Both are not signed to an extension and when things like this drag on it can really bring down the whole team.  And only adding Riley Nash in the offseason stings for them too.
Carolina Hurricanes
The Canes were hurt last year by their goaltending.  Darling really didnt look like a starter at points.  But the team addressed this by signing former Red Wing Petr Mrazek who will push Darling and provide decent goaltending.  They also acquired Dougie Hamilton and Calvin de Haan.  To get Hamilton they had to move Hanafin but I think it was a good trade for the Canes.
Losing Skinner is going to haunt the team this year.  Svechnikov will ease the pain but hes a rookie so we cant expect that much from him.  They lack a number 1 center so that will be a huge problem for this team not only this year but in the future too.
New Jersey Devils
The Devils made the playoffs for the first time in 5 seasons thanks in large part to Taylor Hall having the best season of his career.  They also got huge help from Butcher,  Bratt and Hischier.  As long as Hischier doesnt suffer from the sophomore slump that so many players deal with than the Devils will look good with their top line.
Schneider's health problems are going to be a problem.  Kinkaid was decent when needed but didnt look capable of being a number 1 goalie just yet.  Losing Maroon, Grabner and Moore are also going to hurt and I wouldn't be surprised if they missed the playoffs this season.
New York Rangers
Once a powerful franchise making the playoffs in 10 of 12 seasons, the Rangers are now in rebuild mode. Midseason they decided to give up on the season trading away; captain McDonagh, Miller, Nash and Grabner.  The Rangers did nothing to help their cause in the off season so this team isnt going to make the playoffs.  Sure Lundqvist has been a great goalie but he is now 36 and I don't see him stealing many games.
New York Islanders
So how are the Isles going to respond to losing their Captain/best player/face of the franchise?  By going out and getting Leo Komarov and Matt Martin of course.  All jokes aside those moves will do nothing to ease the blow of losing Tavares but they do make the Isles a tougher team to play against.  Barzal is an amazing player and has a bright future in the league and having Lee and Eberle on his wings makes for a good top line.  But the talent drops off after that.
They brought in Robin Lehner to fight for the number 1 spot with Thomas Greiss.  This seems like it may be the last time that Lehner gets a shot as a number 1 goalie in the league as he hasn't been able to establish himself as a number one yet.
Follow @BetNHL
BetNHL.ca » Tonights Tips »