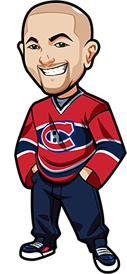 Written by Graeme on Wednesday, September 26th, 2018
Follow @BetNHL
The Pacific Division is quite a tight division when it comes to who will actually win it and is the the tightest of all the divisions. According to the sportsbooks we have two strong favourites in the Sharks and Knights, and then 4 viable contenders in the Ducks, Flames, Kings and Oilers.
And then we have the Canucks and Coyotes – both at 46.00. Only teams with worse odds in their division are the Red Wings, Senators and – sigh – the Habs.
It's got the potential to be an interesting division and a month ago I would have said that any team out of those 6 could take it. But then a small little trade happened that just seemed to change things somewhat.
Before we get into the analysis of the Pacific Division let's check out the average odds:
San Jose Sharks: 3.40
Vegas Golden Knights 3.50
Anaheim Ducks: 6.25
Edmonton Oilers: 6.25
Calgary Flames: 6.60
LA Kings: 6.60
Vancouver Canucks: 46.00
Arizona Coyotes: 46.00

You can bet these at

Canada: Sports Interaction
USA: Bovada
Everyone Else: Bet365 (Americans: We recommend http://www.bovada.lv

Let's have a wee look at each team:

Pacific Division Winners Betting Tips & Analysis:

San Jose Sharks: It's been awhile since the Sharks won the division although they have been in the top three for 12 of the last 13 years (winning 4 times during that span). I think they're going to make it 5 times and take the division.

Bold prediction I know but signing Erik Karlsson shows this team means business. Vlasic. Burns. Karlsson. This is going to be one insane defense. They have Kane locked up and have a very strong top line with decent depth. Some of these guys are getting old and ir's probably the last season we see Thornton. However they do have a lot of young guys looking to take over. Jones is solid and I think this guy is going to be one of the top goalies over the next couple years.

I just can't see by the Sharks and I am advising you bet the Sharks to win the Pacific Division.

Bet it at:

Canada: Sports Interaction
USA: Bovada
Everyone Else: Bet365 (Americans: We recommend http://www.bovada.lv

Vegas Golden Knights: They didn't do too shabby last season and the question is whether they can maintain that or not? The Knights brought a lot of surprises last season yet one thing I am seeing is a lot of people writing them off and putting it down to – well – "beginners luck", and the ability to surprise teams who weren't expecting their style.

I mean it's not like the NHL season is only 2 weeks long or something – teams had time to adjust. However you do have to wonder if the motivation factor will still be there. You can't count the Knights out, but I have to admit I think it's just as likely they have a huge collapse as they do get to the playoffs and beyond again. It's a very unique situation in Vegas.

Anaheim Ducks: The Ducks 5 year winning streak of the Division ended last year as they came 2nd to the Knights. There's really not too much changed about the Ducks. They don't have as much depth as last season but they are still a solid team and it feels like there's a lot of opening for guys to make the lineups and take their chances.

Personally I don't hate betting the Ducks but I'd like a slightly better price. This is a long term bet and health and fatigue could be an issue for guys like Getzlaf, Perry and Kesler. Their defense isn't what it was and they will have to rely on Gibson a bit more.

Edmonton Oilers: The Oilers were a big disappointment last season but in retrospect it was quite easy to see it coming. Losing Eberle and not getting a suitable replacement for him was big, and the injury to Sekera affected them more than anyone would have thought. Even when he returned he was not the same player.

Looking at the additions – I don't like it. Unless Bouchard becames an overnight star I think they're going to struggle and we'll see the same issues as last season. I don't think these guys make the playoffs.

Calgary Flames: The Flames were a team who were just sort of there last season. They were winning, they were losing and they really had no identity to them. If their offense had better accuracy they would have been a playoff team most likely. They had some brutal stats when it came to getting the puck on target.

Defensively they didn't come through like people expected. When I look at this team I see potential but at the price they're not worth backing at all. Should be rank outsiders.

LA Kings: The Kings made a big pickup in the off season in Ilya Kovalchuk. I love it and I'm excited to see him back in the NHL. The Kings are an old team but they're still damn solid.

Honestly this is the type of team that if they were 10.00 to win the division I'd probably back. I think that would represent good value as they are a solid core and Kovalchuk may be a game changer – worth the risk at that price.

Vancouver Canucks: Canucks look like the perfect candidate to finish bottom of the NHL and take the #1 spot in the draft. They're a team in transition and that's something they need at this point. I do think they have the players to pull off some surprise wins however and despite a lot of people predicting they finish bottom I think they end up not doing too badly. Benning doesn't seem to be up for a rebuild.

Arizona Coyotes: Man remember the end of last season when the Coyotes were actually a good team? I wonder if they can bring that into the new season or not. I remember actually looking forward to Coyotes games and cheering them on – they were enjoyable to watch and have made some interesting pickups.

However they don't seem to be the best at developing players and that's a problem. Here's hoping they somehow keep last seasons form going and become competitive. Don't want to see a lot of potential individual talent wasted.

Bet the Pacific Division props at:

Canada: Sports Interaction
USA: Bovada
Everyone Else: Bet365 (Americans: We recommend http://www.bovada.lv




Follow @BetNHL




BetNHL.ca » Tonights Tips »