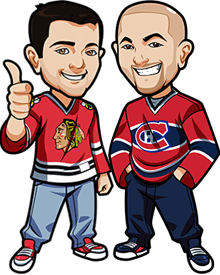 Written by Graeme & Scott on Monday, June 23rd, 2014
Follow @BetNHL
The annual NHL awards take place on Tuesday June24th, 2014. This year looks more like a Colorado Avalanche award show then it does an NHL award show. The Avalanche are up for an award in 4 of the 6 categories and will surely be taking home a couple awards. The Lightning are also well represented with 4 nominations but they are not as favoured to take home some hardware as the Avs are
But as always Bovada gives you a chance to bet on the outcome of each award. Below we will go over each award, who's nominated and who is going to win it and if it's worth the bet.
Hart Memorial Trophy
The Hart Memorial Trophy is awarded to the league MVP. The best player during the regular season wins this award
Sidney Crosby (PIT) – 1.01
Ryan Getzlaf (ANA) – 13.00
Claude Giroux (PHI) – 26.00
This isn't close at all. Crosby is winning this award and rightfully so. He led the league in points on the season and was 17 points ahead of the person in second place. Getzlaf finished in 2nd place in points and Giroux in 3rd. He hasn't won the Hart Trophy in 7 years due to injuries, was healthy this year and he is taking it home with him.
Not sure this is a bet worth making. You have to bet a fortune to win anything worthwhile. But if you are going to bet on the winner of the Hart Trophy, then bet on Crosby at Bovada
Lady Byng Memorial Trophy
The Lady Byng Memorial Trophy is awarded to the player who exhibited outstanding sportsmanship and gentlemanly conduct combined with a high standard of playing ability. A player who doesn't take many penalties yet still plays big minutes and puts up points.
Ryan O'Reilly (COL) – 1.15
Patrick Marleau (SJ) – 6.00
Martin St. Louis (NYR) – 15.00
Another award where there really isn't a competition. Ryan O'Reilly was unreal this year and deserves this award. He put up a career best 64 points, helped get the Avs into playoffs and only took ONE minor penalty. And the one penalty he did receive was a shitty call by the ref. Either way O'Reilly joins Butch Goring as only the 2nd player to finish a year with 2 or fewer penalty minutes.
Not worth the bet, but if you are going to bet, then take O'Reilly at Bovada
Vezina Trophy
The Vezina Trophy is awarded to the best goaltender in the NHL from the previous season.
Tuukka Rask (BOS) – 1.86
Semyon Varlamov (COL) – 2.40
Ben Bishop (TB) – 6.50
This could be given to any of the three goalies as they all had amazing years and each deserve it. But you have to go with Tuukka Rask for this one. He had a 35-15-6 record, led the league in shutouts and ranked in the top 5 of each of the major goalie stats catagories.
Bet Rask for the Vezina at Bovada
Calder Memorial Trophy
The Calder Memorial Trophy is given to the best rookie.
Nathan MacKinnon (COL) – 1.06
Ondrej Palat (TB) – 12.00
Tyler Johnson (TB) – 13.00
Although Palat and Johnson had tremendous seasons, the Avalanche Rookie is going to win the Calder. After being drafted first overall last year he played his first NHL season and led rookies in goals and points and is only 18 years old. Not much value here but if you are betting take MacKinnon at Bovada
James Norris Memorial Trophy
The Norris trophy is awarded to the best defensemen from the season.
Duncan Keith (CHI) – 1.95
Zdeno Chara (BOS) – 2.55
Shea Weber (NAS) – 5.00
Although Shea Weber scored 23 goals, it was Keith who led all of the nominees in points and was the better all-around defensemen this year. This award could go to any of these three as they all deserve it, but I'm betting on Duncan Keith to win his second Norris trophy at Bovada
Jack Adams Award
The Jack Adams award is giving to the coach of the year.
Patrick Roy (COL) – 1.20
Mike Babcock (DET) – 5.50
Jon Cooper (TB) – 11.00
The Avalanche will be taking home their third trophy of the night when the Jack Adams winner is announced. Roy was amazing in his first year behind the bench of the Avs. They had such a terrible year last year that the ended up getting the first overall pick in the draft. Well Roy took his team to the top and they won the Central Division, ahead of St. Louis and Chicago. No doubt with this one and no value
Frank J. Selke Trophy
The Selke is awarded to the forward who excels in the defensive aspect of the game.
Patrice Bergeron (BOS) – 1.28
Anze Kopitar (LA) – 3.75
Jonathan Toews (CHI) – 16.00
Yet again, all three deserve it. But who is going to win it? As much as I would like to see Toews win this again after winning it last year, it's going to go to Bergeron. Not only did he win the most face-offs he also was 2nd in the league in plus-minus and helped the Bruins to the 2nd lowest goals against in the NHL. Bet Bergeron to capture his 2nd Selke in 3 years at Bovada
Follow @BetNHL
BetNHL.ca » Tonights Tips »